Michael Jackson 'Simpsons' episode missing from Disney+
Written by AaronWeb on November 15, 2019
An episode of 'The Simpsons' which featured Michael Jackson as a guest has been removed from Disney's new streaming service, Disney+.
Disney+ launched in the US this week and includes previous seasons of the popular cartoon show, but the library is missing the episode featuring the controversial music icon.
Titled 'Stark Raving Dad', the opening episode of season three sees Jackson voice the character of Leon Kompowsky, a psychiatric hospital patient who shares a room with Homer, and later helps Bart write a song for Lisa.
The removal comes in light of the highly-publicised HBO documentary 'Leaving Neverland', which outlines a number of sexual misconduct claims made against Jackson.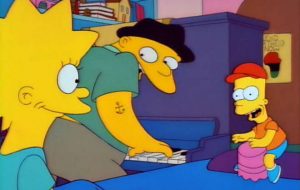 ---