Former Female Footballer Eniola Aluko appointed as Aston Villa Women's sporting director 
Written by MAX FM on January 22, 2020
Former English and Nigerian professional female footballer Eniola Aluko has been appointed as Aston Villa women's sporting director in which her appointment takes immediate effect.
After playing for clubs like Juventus, Chelsea and Birmingham City, Eniola Aluko recently retired from football before getting this latest appointment.
The 32-year-old forward who was known for her superb speed during her active playing time will oversee all activities that have to do with Aston Villa women's team.
Advertisement
Her experience playing the round leather game played a prominent role in helping Eniola Aluko get the director's job at Aston Villa.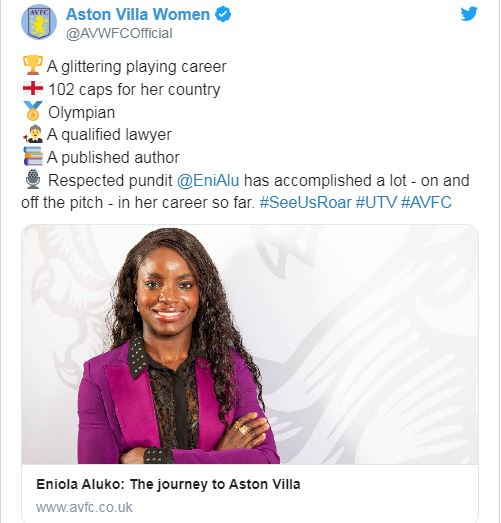 Aston Villa women's team is currently campaigning in the Championship which is the second cadre in English football.
Advertisement
But they are topping the standings with three points and are aiming to get promotion to the topflight at the end of the season.
"I feel it's something that I'm ready for at this point in my career. "I've always been passionate about the women's game, its development and setting cultures that drive excellence. "I'll be helping to create a successful club in Aston Villa Women, and obviously I'm back home in Birmingham where it all started for me. I'm excited about this next step," Aluko told the Villa website.
Before retiring from football, Eniola Aluko played 102 games for England and was also part of the team that won bronze at the 2015 Women's World Cup. And in her 102 games which she played for England, she scored 33 goals for the Lionesses.
Advertisement
Her international career came to an end in controversial situations in 2016 after she accused the then England coach Mark Sampson of improper conduct.
The Football Association in England was however forced to tender an apology to Eniola Aluko over the statement Mark Sampson made against her body color.
Report has it that Eniola Aluko finally called it a day in her footballing career after she left Juventus 18 months into a two-year contract to return to England.
Advertisement
The 32-year-old had spells with Birmingham, Charlton, and Chelsea, winning five FA Cups and three English titles. The Nigerian-born striker also played in the United States with Saint Louis Athletics, Atlanta Beat, and Sky Blue FC, and won the league and domestic cup in Italy.
---