Rapper Iceberg Slim reveals why he cheated on actress Juliet Ibrahim
Written by MAX FM on March 23, 2020
Rapper Iceberg Slim reveals why he cheated on actress Juliet Ibrahim
In the interview with the Ghanaian host, Deloris Frimpong Manso, actress Juliet Ibrahim narrated how everything happened.
She noted that she suspected he was unfaithful after he told her not to make their relationship public. Ibrahim said she discovered the truth after she made their relationship public. She said his ex-girlfriend of four years chatted her up and revealed that Slim was still dating her.
The Nigerian rapper said he cheated on the Ghanaian actress because "I was looking for something that I didn't know I had in myself."
He revealed this while taking questions from his fans on Instagram.
He added: "I got to a point where I wasn't sure if I truly loved myself, and I ended up seeking emotional comfort elsewhere."
See post;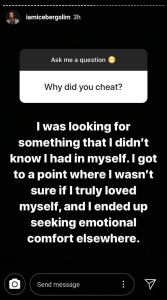 ---