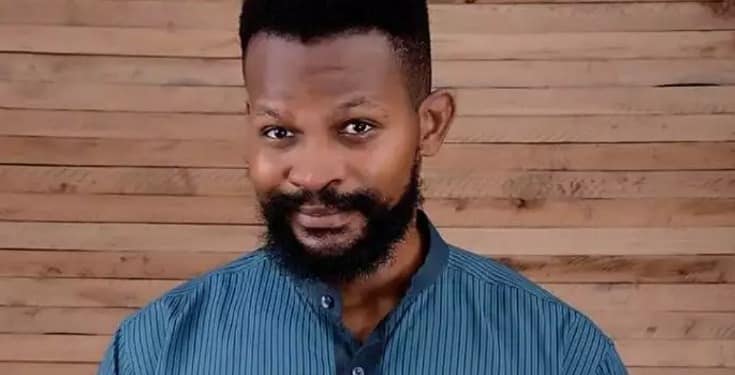 Nollywood actor Uche Maduagwu has taken to social media to write an open letter to Governor Babajide Sanwo-Olu on behalf of Lagosian.
Governor of Lagos State Sanwo-Olu who in a statement said that the state may extend the lockdown so as to effectively manage the pandemic situation.
Meanwhile, since the beginning of the on-going lockdown in some part of the country, Nigerians have not stopped complaining about its effect, one of which is hunger.
Many people have taken to their social media page to grumble about a lack of money and starvation.
Replying to the governors statement, Uche has called on the governor to give out N25, 000 each to Lagosians if the lockdown will be extended.
According to him, hunger is worse than the pandemic in the state.
Uche Maduagwu highlighted that it was hunger that ended the fighting spirits of Igbos during the civil war.
He condemned the act of follow international countries like Spain, UK, Italy etc in doing lockdown without the necessary palliative for the masses.
Noting that over 80 million of Nigerians live on less than one dollar per day, the actor said questioned the governor asking him how many he has reached with food and money.
See post: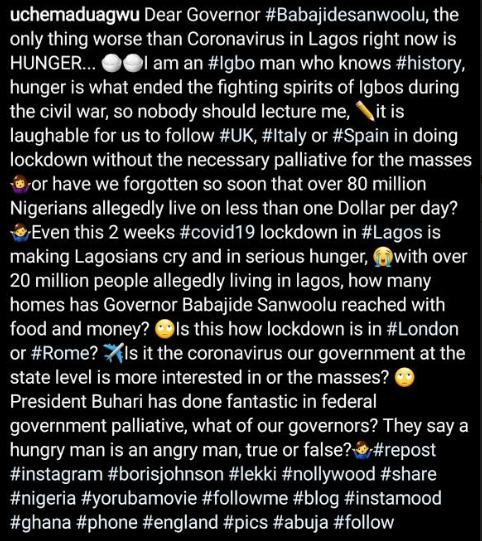 ---