Feeling entitled to another Person's Sweat is the Biggest Form of Laziness: Annie Idibia Tells Fans
Written by MAX FM on April 7, 2021
Feeling entitled to another Person's Sweat is the Biggest Form of Laziness: Annie Idibia Tells Fans
Nollywood actress, Annie Idibia has taken to her social media page, where she bore her thought concerning those who have an annoying sense of entitlement.
In a lengthy post that was shared on her social media page, the actress spoke about how people always wait for things to get handed to them instead of getting things done themselves.
The mother of one took to her Instagram story to state that people who have this attitude often have to wait long, according to her, such people end up getting bitter at people who had to work hard to achieve success.
"If you wait for everything to be handed over to you, you gon wait a long time. You're going to grow bitter, envy, and mad for no good reason towards the people putting in the work, working hard every single day.
Feeling entitled to another person's sweat is the biggest form of laziness. "Learn and apply. stop dragging 'you' down. Grab every single opportunity that comes your way. Don't feel entitled for it to be handed over to you. Just grab it and make the best out of it. Watch your life flourish."
See post: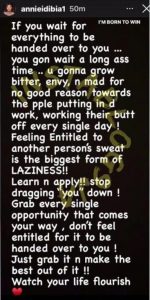 ---