Actor Kanayo replies Portable after he declared himself the new Kanayo
Written by maxfmeditor3 on August 22, 2023
Nollywood star, actor Kanayo Kanayo, has scheduled a meeting with the singer Portable, following the singer's audacious claim to succeed him in the realm of ritualistic roles.
It was reported that Portable took it upon himself to dub as the new Kanayo Kanayo, while inappropriately advocating for supernatural methods as the route to financial gain.
Throughout his career, Kanayo has gained recognition for his portrayals in roles associated with money rituals.
On his Instagram post, Portable openly identified himself as a practitioner of rituals and even proclaimed his role as the successor to Kanayo Kanayo.
In his misguided advice, he expressed the notion that resorting to rituals is a more favorable option, given the inevitability of death.
Responding to this, Kanayo promptly arranged a meeting with the singer, specifying a rather eerie hour for their encounter.
"My brother Zazuu, let's meet at 2 am".
Actor Kanayo speaks on his night sacrifice
Remember the instance when Kanayo Kanayo addressed his experiences with night sacrifices in movies, which subsequently became a popular social media meme?
In a brief video capturing his conversation with Chude Jideonwo, Kanayo Kanayo revealed that he has no involvement in any form of sacrifice, and that his faith is centered on Jesus.
The seasoned actor, recognized as one of Nollywood's most esteemed figures, humorously stated that he's willing to continue with symbolic night sacrifices as long as they contribute to his financial gains.
In response to his fellow actor Alex Ekubo, and actor Kanayo pointed out the importance of dedicating today's efforts for a better tomorrow. He underlined the fact that genuine achievement, success, and a fulfilling life are not attainable through shortcuts, but through hard work and making sacrifices.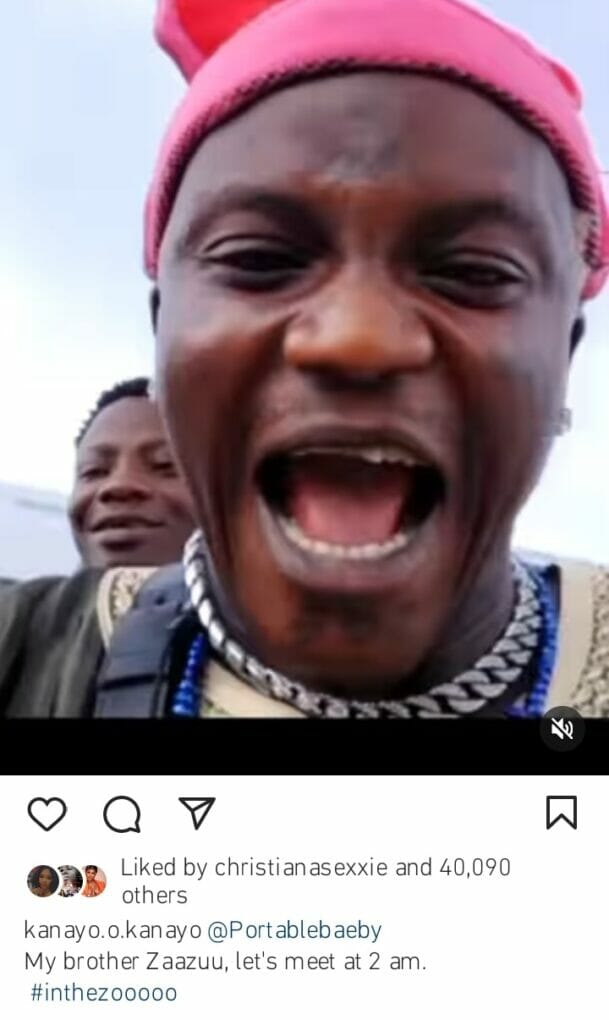 See more: Actor, Kanayo O. Kanayo pays his son a surprise visit in school
Ashabi Expresses Undying Love for Singer Portable in Heartfelt Message
---