Celebrities console Nkem Owoh as he speaks out on daughter's death
Written by maxfmeditor3 on August 29, 2023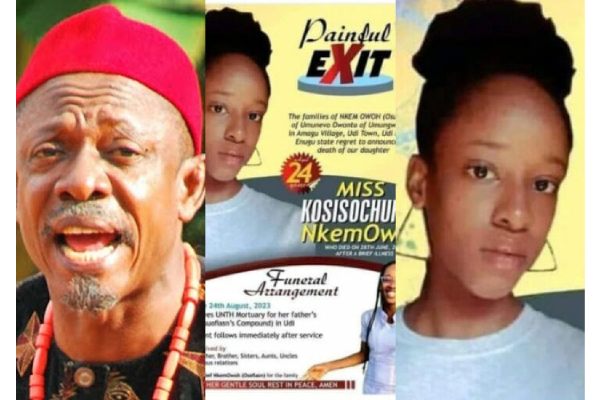 Nollywood celebrities have united in support of their grieving colleague, Nkem Owoh. The respected actor recently faced the painful loss of his daughter on June 28, following a battle with liver cancer.
After two months, the family laid her to rest on August 24th in their ancestral town in Enugu State. He took to his Instagram page to express his heartfelt gratitude for the love and solidarity shown by everyone during this difficult time.
He shared that in the face of tragedy, the comforting feeling of not being alone is truly heartwarming. The seasoned actor acknowledged that the unexpected loss of his daughter has brought an overwhelming sense of emptiness.
Nevertheless, he remains hopeful due to the unwavering encouragement pouring in from all corners. He's confident that with the support he's receiving, he will eventually find his way through this challenging period.
"I want to thank you all for the support and love shown to me and my family. When tragedy strikes, there is nothing more heartening than knowing that you're not alone.
It was with deep gratitude that I received your note, calls with condolences. We have seen many changes over the years. But this is a change I did not anticipate and I am feeling an acute sense of loss.
However, I know that because of your encouragement, I will get through this time. Thank you for helping to push me through my grief".
Celebrities console Nkem Owoh
Taking to his comment section, the likes of Ken Erics, Mercy Aigbe, Uche Elendu, Susan Peters, Ruth Eze, and Uche Ogbodo took to his comment section to console him.
Ken Erics wrote, "May God comfort you, Sir. It's well

Mercy Aigbe wrote, "Sending you lots of love Daddy

Uche Elendu wrote, "May God strengthen you. This is indeed tragic. So sorry for your loss

Susan Peters wrote, "My sympathy daddy

Ruth Eze wrote, "Our daddy

Uche Ogbodo wrote, "Sorry Uncle Nkem".
---