Eve Esin reacts to reports of welcoming a child after 12 years of marriage
Written by maxfmeditor3 on September 1, 2023
Nigerian film star, Eve Esin, has responded to a widely circulated Facebook news story alleging that she recently became a mother after 12 years of marriage.
In an Instagram post where she addressed the matter, Eve clarified that she initially considered disregarding the news. However, the persistent calls she received from friends and family prompted her to set the record straight.
Eve emphatically stated that she is not married, let alone having been in a marriage for 12 years. Furthermore, she clarified that she does not have any children.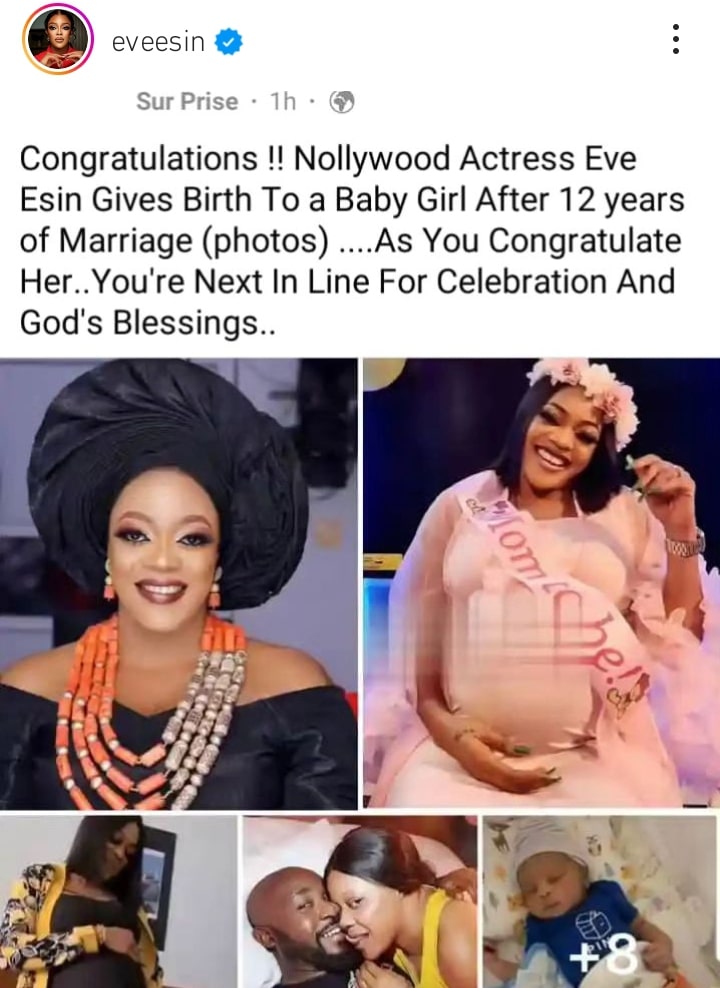 She made it clear that the circulating pictures are actually snapshots captured on various movie sets.
Eve Esin emphasized that she believes both marriage and having children will occur in their own time, according to God's plan, and when they do, she won't hesitate to celebrate them.
"Facebookers let me be with false narratives, please.
I initially wanted to ignore this but I'm tired of defending myself. Friends and family calling to congrats over someone else's supposed "CONTENT".
I am not married! Talk more of being married for 12 years.
I have no child!
These are all different movie set pics!
All these will happen and I will make the noise myself. Haba! What's this?".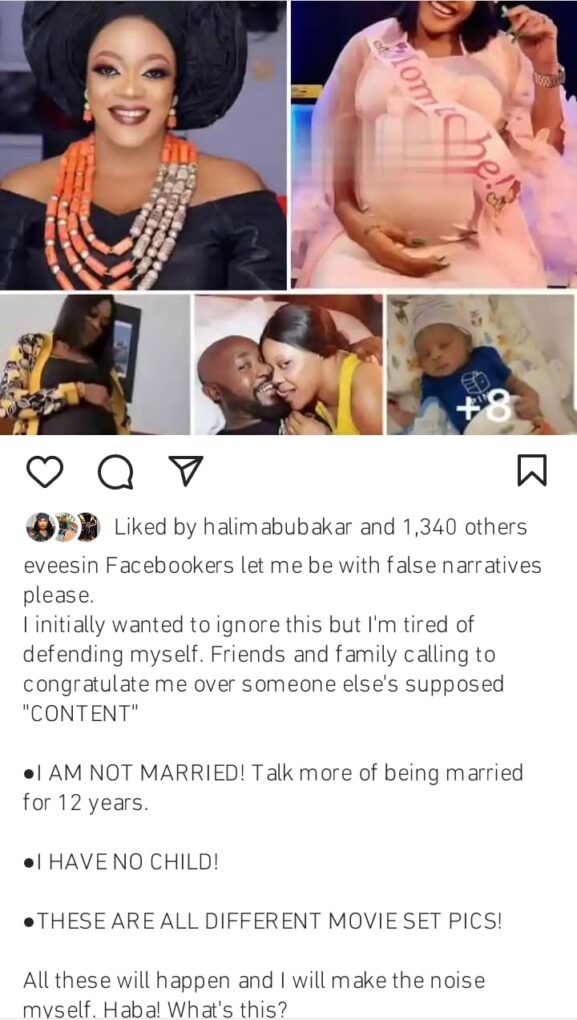 Eve Esin speaks on role she allegedly played in Chacha Eke, Austin Faani, and Apostle Suleman's triangle
Last year, Eve Esin found herself amidst a swirl of rumors linking her to the ups and downs in the career of her colleague, ChaCha Eke.
These rumors gained traction when the Instagram blogger known as Gist Lover penned a lengthy exposé. In this detailed account, it was alleged that Eve Esin had a pivotal role in Chacha Eke's entry into Nollywood.
The story further claimed that they were involved in an alleged romantic liaison with a movie editor, Austin Faani, during that period. It was also suggested that Chacha Eke's marriage to Austin came after she became pregnant, implying a connection between the two events.
Additionally, the exposé hinted at other rumored affairs involving Chacha Eke, including one with a figure like Apostle Suleman.
According to Gist Lover, Eve Esin was responsible for bringing Chacha Eke from Port Harcourt to Asaba, effectively kickstarting her acting career.
In response to these allegations, Eve Esin took to her Instagram page, where she posted a cryptic message alluding to being an unintended target of unwarranted accusations, akin to being struck by a stray bullet.
Shocking details of actress Eve Esin's mystery husband
A few years ago, Eve Esin, affectionately referred to as Kokomma, reportedly entered into an engagement.
At that time, Esin excitedly shared the news of her engagement on her social media platforms but opted to keep her partner's identity a secret.
In a rather unexpected turn of events, the actress later decided to remove all traces of her engagement announcements from her social media accounts.
In the midst of these developments, an Instagram blogger made a startling claim, suggesting that Eve Esin may have been involved in a situation where she allegedly disrupted the marriage of a Nollywood producer to pursue her own marriage.
The blogger went on to share a photograph of the mysterious man in question and made assertions that he had purportedly left his own young family to engage in a romantic involvement with Eve Esin.
See also;
Nollywood stars join Funke Akindele to celebrate 46 years of bliss
---