Fans React to Bolanle Ninalowo and wife's separation after 18 years
Written by maxfmeditor3 on September 1, 2023
The dissolution of the marriage between Nollywood actor Bolanle Ninalowo and his wife, Bunmi Ninalowo, has sparked significant reactions among social media users. Bolanle Ninalowo, himself, made the announcement just moments ago in a heartfelt Instagram post. In this post, the actor openly acknowledged that he has come to terms with the end of his marital journey.
Bolanle expressed the profound sadness he feels for his loving and adorable children, for whom this reality is undoubtedly difficult. He emphasized the necessity of this decision for the sake of a peaceful and loving future. His journey had been one of prayer, nurturing, and tireless effort to avoid such an outcome, but he has reached a point where he must confront it. His children, he recognized, have grown and gained a better understanding of his pain and struggles regarding them.
In a moment of reflection, Bolanle fervently prayed for divine guidance, seeking either the reward he genuinely deserves or the punishment due for any wrongdoings, should that be the case.
The actor revealed that both he and his wife have made the tough choice to go their separate ways, ultimately leading to an irreconcilable dissolution of their marriage. He earnestly requested the public's understanding and respect for their privacy during this undoubtedly challenging period in their lives.
This announcement has stirred a wave of empathy and support on social media, with many users extending their best wishes to the couple and expressing hopes for an amicable resolution to their differences.
Reactions
Many expressed disappointment at the crashed marriage as they noted how the actor tried to make things work between the two.
One Chyomsss wrote, "With, marriages can be very scary these days.

One Onyinyechi Favour wrote, "After everything at least they should have considered their beautiful kids

One Just Ivy wrote, "Whaaaaat. I thought a lot of people loved how they both doted on each other. This is sad. What's going on now? People need to start relearning the art of marriage, and no I didn't say one gender. I pray they both end up okay and also it doesn't affect the kids involved

One Susylicious wrote, "Marriage is a scam. Be single and happy

One Fashion Magic blog wrote, "And their relationship looks so good on social media. It is well with them

One The Genius wrote, "Marriage? Marriage is nobody's mate! The only institution that awards certificates before starting to receive lectures. A bed of roses among thorns

One Ug Bby wrote, "Not all that glitters is gold. May God give them the grace to walk this path cos I know it won't be easy. So so sorry for this

One Havilah Divas wrote, "This one pain me I loved the fact they tried to make it work unfortunately it didn't work. It is well".

One Rozae Atlanta wrote, "Fame is the devil".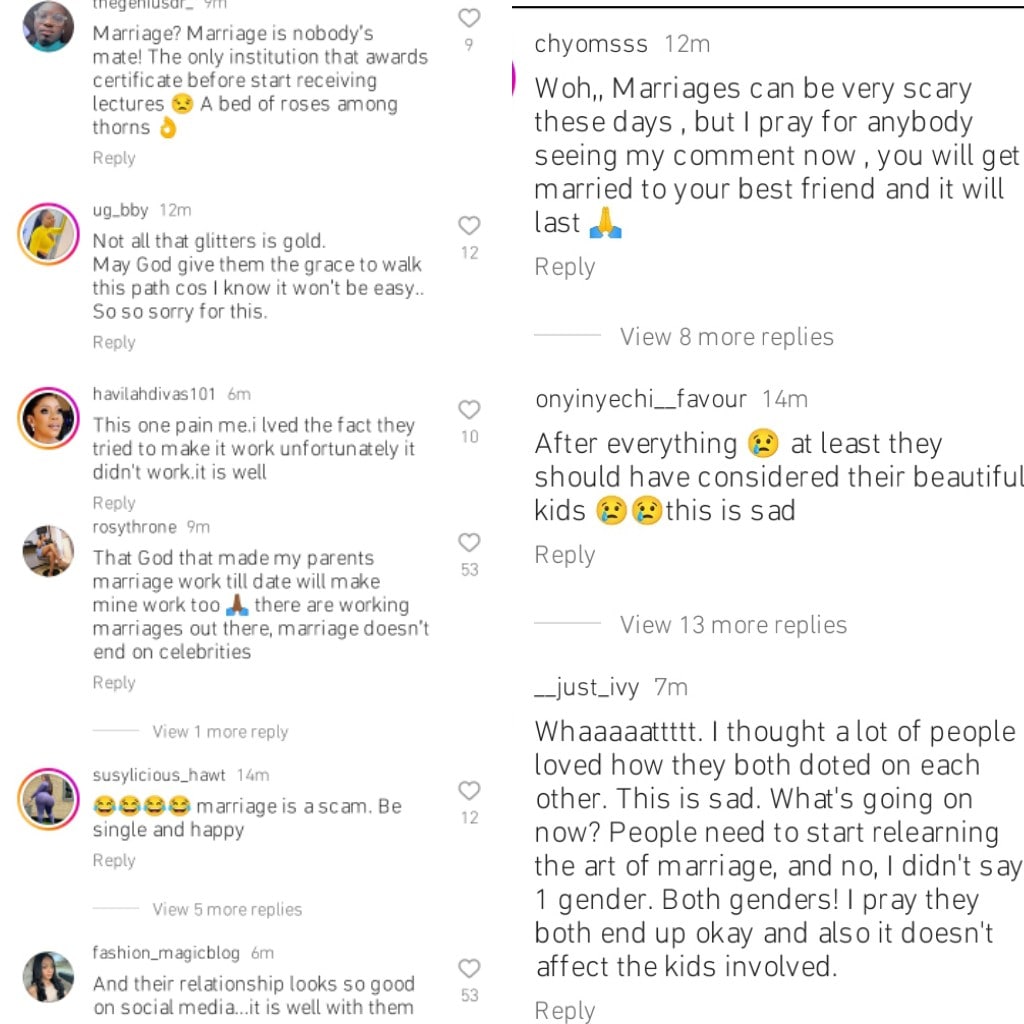 See also;
Bolanle Ninalowo announces separation from wife after 18 years of marriage
Nollywood stars join Funke Akindele to celebrate 46 years of bliss
---