Saga Sets the Record Straight: His Engagement to Nini Was Not a Prank
Written by maxfmeditor3 on April 12, 2023
The recent turn of events surrounding the engagement between former Big Brother Naija (BBNaija) housemates Saga and Nini has left fans in a state of confusion. Initially dismissed as just another prank or publicity stunt, Saga has now clarified that his emotions towards Nini were real all along, and his initial statement claiming it was a skit was just a ruse.
In a recent interview with Arise TV, Saga shed light on the timeline of his engagement to Nini. He revealed that he proposed to her in December, following a brand engagement for a wine company. He emphasized that he is not the kind of person to propose just for laughs, and pleaded with his supporters, fans, and Nigerians in general to respect his privacy and that of his fiancée.
The proposal video, which had gone viral, showed Saga getting down on one knee and Nini saying yes. Fans of the duo were elated, as they had been rooting for them since their time in the BBNaija house. However, Saga later revealed during a radio interview that the video was from December 2022 and was actually a skit. He expressed surprise at the video being leaked to the public, and when asked about tying the knot with Nini, he laughed it off, saying, "Tie the what? The video na skit."
The reason why the proposal was initially believed by many is rooted in Saga and Nini's antecedents in the BBNaija house. They had spent a significant amount of time together and had even slept in each other's beds from their third week in the house until they were evicted. Saga's emotional display when Nini was reported
missing for days and his public display of tears had also led many to believe that their relationship was more than just friendship.
Big Reveal: However, Saga's recent revelation that the engagement was not a prank has left fans confused. They don't know what to believe anymore, as they had initially dismissed the engagement as another ploy for attention. Some fans feel betrayed by Saga, while others are still hopeful that Saga and Nini's relationship is genuine and will eventually lead to marriage.
Saga also shared the backstory of his relationship with Nini, revealing that they had been dating for several years before deciding to take their relationship to the next level with an engagement. He shared anecdotes about their journey together, including their ups and downs, and how they had overcome challenges as a couple. He emphasized that their relationship was built on love, trust, and mutual respect, and that their engagement was a natural progression of their commitment to each other.
The saga of Saga and Nini's engagement has sparked heated discussions on social media, with fans expressing a range of emotions from disappointment to disbelief. Some have accused Saga of playing with Nini's feelings and using their relationship for publicity, while others have defended him, saying that reality TV shows often blur the lines between genuine emotions and scripted drama.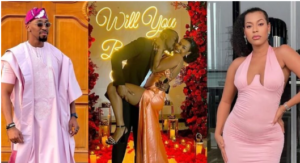 As the dust settles on this dramatic turn of events, one thing is clear: Saga's clarification that his engagement to Nini was not a prank has added another layer of complexity to their story. It remains to be seen how this revelation will impact their relationship going forward, and whether they will eventually walk down the aisle as a couple.
In conclusion, Saga's recent clarification about his engagement to Nini has left fans in a state of confusion. What was initially dismissed as a prank has now been revealed as a genuine proposal, according to Saga's latest statement. This turn of events has sparked intense discussions among fans, with emotions running high. As the saga of Saga and Nini's engagement continues to unfold, all eyes will be on their future interactions and whether they will eventually tie the knot.
Related Articles:
Saga Adeolu Reveals his Proposal to Nini was a Skit
BBNaija Reunion Saga: Maria Gets Dragged Real Hard (See Video)
---