Tonto Dikeh reveals what she did to her friend's bride
Written by maxfmeditor3 on May 31, 2023
Tonto Dikeh reveals what she did to her friend's bride
Nollywood actress and mother of one Tonto Dikeh has revealed what she did to her friend's bride at their wedding ceremony.
Tonto Dikeh shared a post on her Instagram page that detailed what she did, and this has earned her praise from her fans. She disclosed how she realised that she is wearing the same colour and almost the same fabric as her friend's bride.
Tonto Dikeh disclosed that she ordered a change in her outfit out of respect for the bride because she does not want to steal her day.
The mother of one revealed that it was fair for her to respect her friend's home and decisions which include his partner's.
"I have a 2days wedding that starts today. I have just been told I am wearing the same colour and almost the same fabric as the bride. Out of respect, I'll give up my dress.
I just called up bibichristophers let's see what magic we can pull off in 7 hours, I stress this woman too much, I just think it's only right and fair I don't wear that outfit, seeing that the groom is my friend and the bride a stranger.
I believe in respecting my friend's homes and decisions, and that majorly includes their Partners."
Angry Tonto Dikeh blast Medlin Boss for reportedly snatching her friend's husband
Recall that an angry Tonto Dikeh reacted to the viral reports that Medlin Boss snatched her best friend's husband.
Reports circulated by a controversial online blog, Gist Lover, claimed the stylist dated her best friend's husband, who already had six children.
Photos on social media also captured the close relationship shared between Medlin and her friend.
Sharing one of the circulated photos on Instagram, Tonto Dikeh expressed disgust with Medlin for taking her bestie's husband, stating she is a demon.
The mother of one expressed disbelief and disappointment over Medlin's actions claiming she would have gathered friends to beat her if they were ever one.
She wrote: A friend who can do this to another friend is a demon. @medlinboss I don't want to believe all these horrible stories, I AM SO DISAPPOINTED. That was your sister, tufiakwa. Block me that's your business!!
If we were friends, I will gather other friends and beat that hell out of you… this is evil, the gist is all over Abuja!!!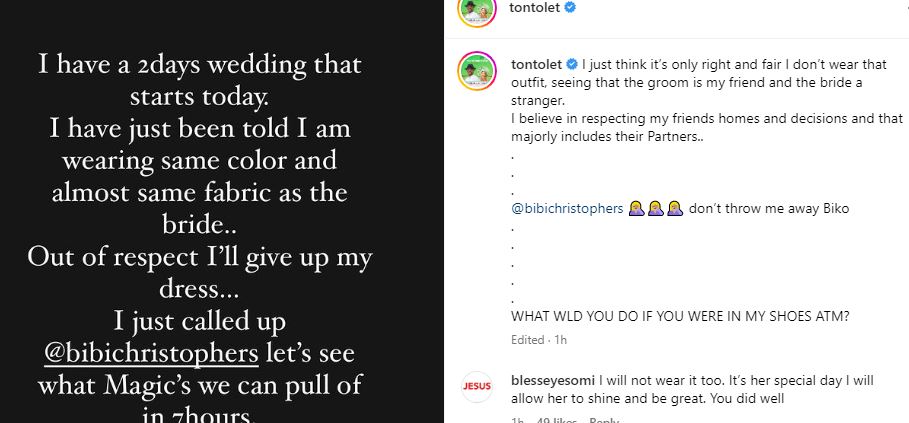 ---