Tori Keeche opens up on why she left Marlian Records
Written by maxfmeditor3 on September 18, 2023
Tori Keeche, a female artist known for her affiliation with Naira Marley's record label, has recently made a startling revelation regarding her knowledge of an alleged conspiracy against her fellow artist, Mohbad.
Taking to her Instagram story, Tori Keeche courageously disclosed that she had parted ways with the record label due to unsettling conversations she had overheard concerning plans to harm Mohbad during his upcoming concert in Ikorodu.
This Instagram story has rapidly gained traction across various social media platforms, shedding light on the tumultuous situation. It also highlighted the fact that Tori Keeche faced significant public backlash and accusations, with many holding her accountable for her perceived involvement in this alleged plot against Mohbad.
However, Tori Keeche vehemently refuted any direct involvement in any malicious schemes. She strongly emphasized that her decision to sever ties with the record label was rooted in her moral objections to the activities she had uncovered within the team.
According to Tori Keeche, her decision to distance herself from the label came to fruition after she accidentally stumbled upon conversations involving Naira Marley and other team members discussing a plan to potentially harm Mohbad during his Sunday night concert in Ikorodu. While she refrained from providing specific details about the alleged plot, she reiterated that she played no active role in it.
What further compounds this narrative is Tori Keeche's revelation that her exit from the record label was accompanied by a distressing ordeal. She claimed to have faced threats and mistreatment from members of the Marlians community.
In her brave stance, she did not only distance herself from the alleged plot but also exposed the threats and harassment she and her family have encountered since speaking out. This revelation has sparked intense discussions within the music industry and among fans, as the saga continues to unfold.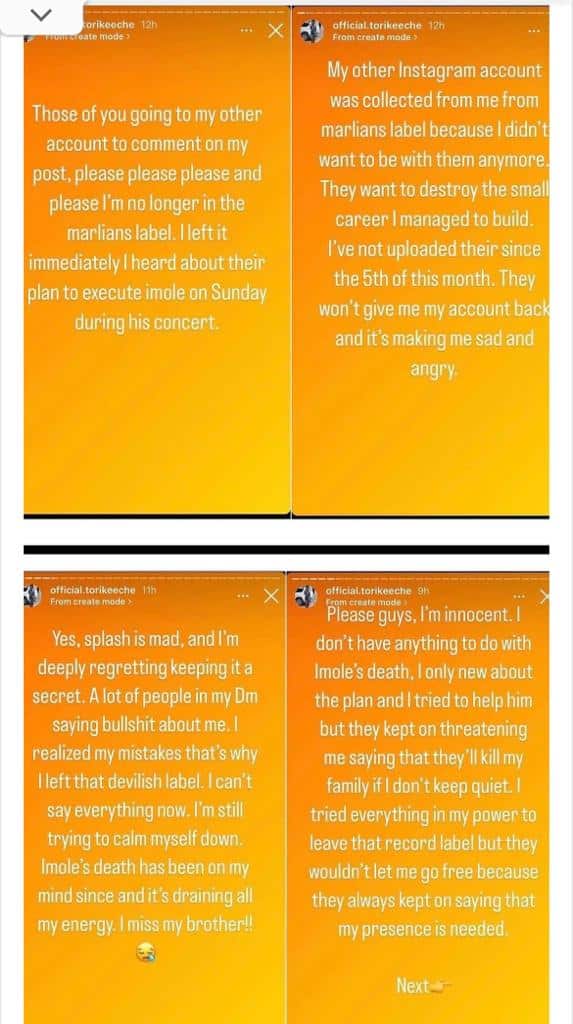 ---