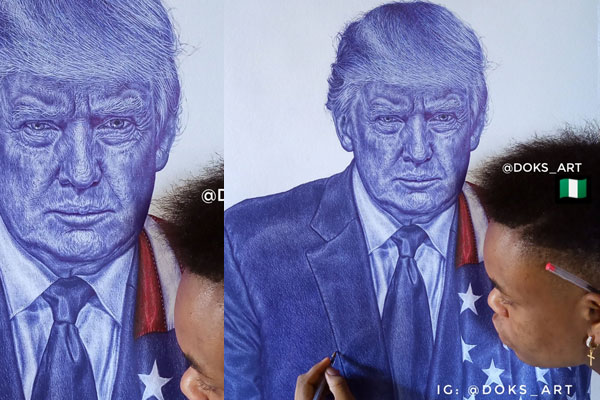 Even though other artists have taken the path of drawing famous individuals or celebrities and reaching out to them via Twitter then getting rewarded, like in the case of one Nigerian artist that put up a portrait of US comedian, Kevin Hart, and eventually caught his attention and was duly rewarded for the artwork.
A Twitter user, Creative_doks who is an artist as well, used a ballpoint to do a drawing of the president of the United States of America, Donald Trump, a job that took him up to 70hours after which he decided to reach out to him via the Twitter App, after so many a retweets, he finally got the President's attention but got a handsome remark that goes thus: "Not only did I see it @Doks_Art, I think it is fantastic. You are a wonderful artist, never give up your dream!"
Many on Twitter believe that the president should have done more than just giving a compliment.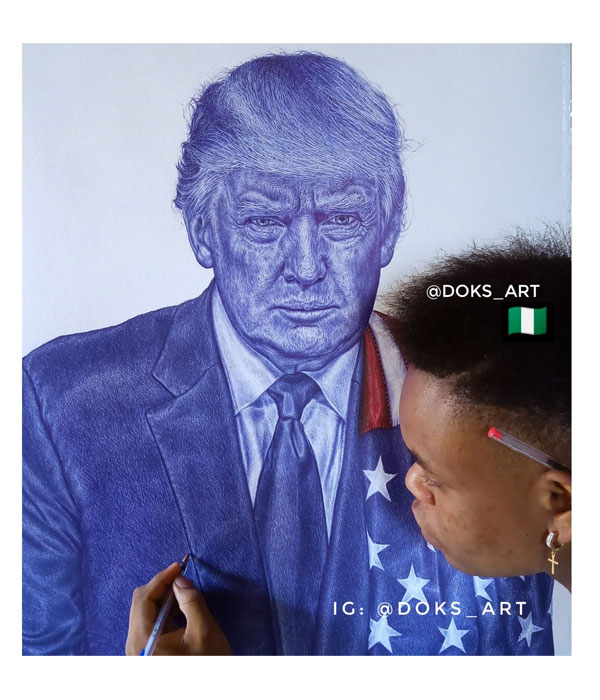 This is my second portrait of President Trump. This time I really want him to see it. All done in ballpoint, took up to 70hours, '24×21′ inches. Please RT till the president sees this🙏🏽 @realDonaldTrump @DonaldJTrumpJr @POTUS
This is my second portrait of President Trump. This time I really want him to see it. All done in ballpoint, took up to 70hours, '24×21' inches.
Please RT till the president sees this🙏🏽@realDonaldTrump @DonaldJTrumpJr @POTUS pic.twitter.com/Uh8MysTRZG

— creative_doks (@Doks_Art) December 1, 2019
---