Adekunle Gold celebrates Simi with sweet words on their 1st wedding anniversary 
Written by AaronWeb on January 13, 2020
Nigerian singer, Adekunle Gold has taken to social media to celebrate his wife and singer, Simi as today marks their first wedding anniversary.
The "Promise" crooner shared an adorable picture of his beautiful wife Simi in their home braiding his hair and showered her with praises. Although it feels like just yesterday that the star couple got married in a private wedding ceremony, one year has gone down the line and their love only seems to be waxing strong.
He wrote: "1 year in and I can't even begin to say how blessed I am that it's you I am doing this love something with. You amuse me, you make me laugh, hard, you are so beautiful, I am lucky I get to love you forever. Here's to more beautiful memories together, doing great exploits and living our lives on our terms. Love you forever babe.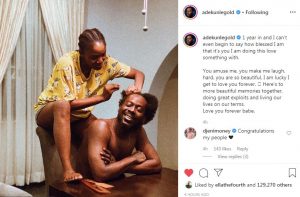 Source: Instagram
Simi only a while ago, proved that love makes everything beautiful and perfect. The singer recently took to social media to admire her husband and fellow singer.
---