Alice Marie Johnson has emotional reunion with her family right after prison release (video)
Written by MaxFM on June 7, 2018
The touching moment a first-time drug offender runs into the arms of her family after her life sentence was commuted by President Donald Trump has been captured on camera.
Great-grandmother Alice Johnson is seen sprinting into the arms of her waiting family in Aliceville, Alabama on Wednesday, just hours after Trump's announcement.
Alice Marie Johnson, 63, who has spent the last 21 years of her life in prison for a drug-related crime, had an emotional reunion with her family immediately following her release.
Alice was sentenced to life in prison but after Kim Kardashian spoke with U.S. President Donald Trump, pleading with him to commute her sentence, the grandmother was pardoned and set free by Trump.
Ms Johnson wasted no time catching up with her loved ones immediately after she was released from prison.
In a video, Alice, who was driven a short distance away from Alabama's Aliceville Correctional Facility, bolted into the arms of loved ones waiting for her on the roadside.
Kim Kardashian also reacted with joy following the release of Ms Johnson. She took to Twitter to express her excitement. Her sister, Khloe Kardashian also praised Kim for her effort in getting Alice out of prison.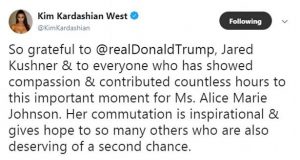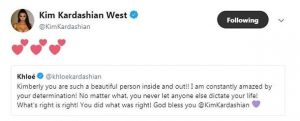 ---