Amber Rose Reveals She Sniffs The Underwear of Her Man
Written by MaxFM on February 9, 2018
Amber Rose Reveals She Sniffs The Underwear of Her Man
American actress and Model, Amber Rose has found the most interesting habit to help her cope that we've heard of. On her podcast, Loveline, the 34-year-old beauty said she holds tight to his underwear.
"I've sniffed his underwear, like where his balls are," she said during the podcast. "It smells so good!"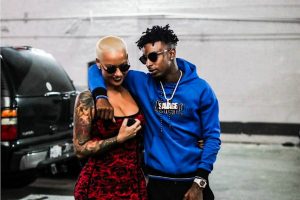 Her co-host, Dr. Chris Donaghue, supported the idea, even though social media has already responded to her admission with less encouragement.
"Are we gross? That's hot to me, I'm sorry," she continued. "It has the smell of their public hair walking around throughout the day… Woo!"
But Amber and 21 aren't the only couple to have some interesting quirks and fetishes in their relationship. Hit the flip and check out star couples, past and present, who have had some intriguing habits (some cute, some raunchy, some just a tad odd) — and a whole lot of fun.
---