Baba Ijesha: If there is no arrest of all adults involved, we will peacefully protest in Alausa – Yomi Fabiyi says
Written by MAX FM on May 4, 2021
Recall that Nollywood actor, Yomi Fabiyi fired back at singer Davido and media personality Toke Makinwa after they called him out over his comment on actor Baba Ijesha's alleged molestation of a minor.
The actor Yomi Fabiyi, has now called for the arrest of all involved in getting the CCTV footage of actor Baba Ijesha, defiling a minor.
He shared a post on his IG page. It reads: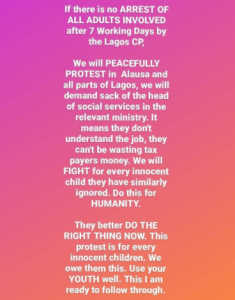 He also shared an article from one Oriyom Hamzat, questioning why there was no blood gushing out from the victim when she was allegedly raped by the actor seven years ago.
"RE-BABA IJESA RAPE ACCUSATION: AN OVERVIEW
WHAT IS RAPE?
Rape allegation is a very serious offence, both for the complainant and the alleged. If rape was found to have taken place, the alleged could be facing a long sentence, if otherwise, the complainant too could face severe punishment. One good thing about the internet is that there are people who know how to talk, and there are people who know how to understand. Having seen series of videos posted online relating to the case of Lanre Omiyinka, i have come to see a few holes in the stories being bandied online.
1. From what was said by the complainant, and, in the way i understand it, a 7 year old girl was raped in her house 7 years ago. She said she left the little girl with the accused for 'only 3 minutes', ONLY THREE MINUTES! The little girl was raped within that 3 minutes – that's my number one observation
2. Assuming a 7 year old girl was raped by a 48 year old man, rape means forceful coitus, which means there was penetration. For a 7 year old, there will be blood. So if you are the mother of a girl that has just been raped, and she isn't crying or walking with a stagger and there is no blood dripping from her, something is wrong. Apart from this, the act was performed inside your house, was there no drop of blood lying around, what about the girl's pant or dress, no blood?. How could you not know? Who washed the girl's panties or clothes, did nobody noticed any blood? The answer to this is that its either their was no rape or it was covered up.
3. The complainant said she asked the 7 year old girl if there is any problem at that time but the girl didn't disclose that she was raped, but the complainant said she noticed that the little girl was failing at school, that was how she figured she had been raped. There is no proven correlation between grades in school and rape. Failing in the classroom is an index of the home environment and a measure of APTITUDE. The fact that the little girl could not TRUST you enough to tell you she had been raped, speak volumes of the bonding between you and the girl.
4. 7 years later, the girl now disclosed that she was raped. TO BE CONTD."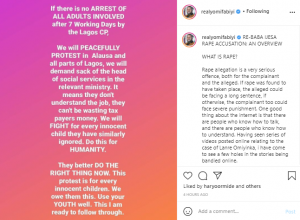 ---