Bad wife kills faster than poverty- Lanre Gentry
Written by MaxFM on December 7, 2017
Lanre Gentry, Mercy Aigbe's divorced husband and an influential hotelier just revealed indirectly that the crisis rocking his marriage might not be ending anytime soon.
Responding to a message posted by Afeez Owo ,a Yoruba Nollywood actor who asked a question on his Instagram page:
"Which one kills a man faster…poverty or Bad wife? be sincere with your answer, especially ladies," Lanre chose a 'bad wife' as what kills a man faster. See the instagram post below, find comment in red circle: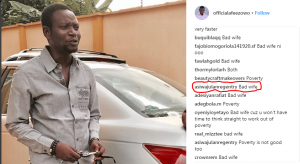 Remember that Mercy Aigbe accused Lanre of domestic violence which made her move out of her matrimonial home with her two children, moving into an apartment in Magodo.
Confirming that she was involved in domestic violence, the actress after the incident, took to her Instagram page where she put up a photo of a battered woman writing, "Say no to domestic violence. Only a Coward hits a woman! REAL MEN don't HIT!".
Her husband also went on the defensive with a post "say No to the promiscuous and irresponsible women."
---