#BBNaija: Khloe, Nina, Cee-C Fight Dirty Over Food
Written by MaxFM on March 27, 2018
So, it looks as if the drama in the house isn't going to end anytime soon.. and we can't just wait for more.
Though Khloe said she was going to mess with Cee-C a little, and she'd tell her to calm the f**k down.. But reverse was the case when she spoke to CeeC yesterday.
Khloe during a question and answer game advised Cee-C about being aggressive.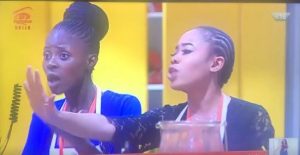 According to her, Cee-C needs to calm down and let love win.
Khloe said, " Cee-C, you know we had issues before I left the house but regardless I will give you this advice.
"You need to calm down, I mean you don't need to flare up always.
"You have to reset yourself and let love win. "
After this encounter with Cee-C, everyone thought Khloe calmness has returned, but with what happened earlier today, It's far from it.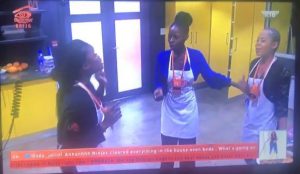 There was a clash that broke between Nina, Khloe and CeeC, and it didn't go down well with them, as they nearly came to blows.
Watch the videos below…
https://twitter.com/kuukuafouillard/status/978564186199425024
https://twitter.com/kuukuafouillard/status/978564319825850369
https://twitter.com/kuukuafouillard/status/978564490584354816
But Ceec just might really need help o….#bbnaija
Antho just gave me life!
😂😂😂😂 pic.twitter.com/wPoSxD783U

— DorcasIAdetunji (@officialydorcas) March 27, 2018
---