#BBNaija: Lizzy Anjorin Claims Tobi is From a Rich Home
Written by MaxFM on February 13, 2018
#BBNaija: Lizzy Anjorin Claims Tobi is From a Rich Home
The Big brother Naija show is reaching its major highlights and housemates have already been put up for eviction, fans have begun soliciting for votes for their favourite housemates.
Nollywood actress, Lizzy Anjorin, in a bid to solicit for her favourite housemate, Tobi, who she claims she knows so well, has taken to social media to 'expose' him and state why he should have majority's votes.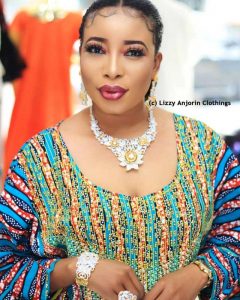 Lizzy claims to be a family friend of Tobi and according to her, his parents feature strongly in her success story – giving a brief detail about the banker, Lizzy dubs Tobi a Yourba Angel and asks that people shouldn't be quick to judge his actions in the house.
Sharing a photo of herself with his mum on Instagram, she wrote:
"Hey. Egbami ke!!! Allow me to expose Tobi Bakre of BBNG.
He is a banker,he acquired Bsc @ age 19. When am talking, he hardly raise his head to look into my eyes,Very humble and respectful. I swear, Tobi will be the last person I could ever imagine to see on screen. Pardon me, hustle neva gree me enjoy most of the nice screened programs. I was scrolling through my IG handle and I saw my own Tobi Bakre in BBNG HOUSE. The most evil thing you can do is to be praising the good deed of your Godsent,after they have died. Allow me to tell you who Tobi is. Tobi's mum was my account manager years back, she entrusted millions in my hand for business and she also introduce me to nice customers that would purchase it. Tobi's daddy gave me his multimillion naira mansion for film shooting for good 4months to shoot without collecting a dime instead he gave me more money. Apart from that,Anytime i visit Agò-ìwoye tobi will vacate is room and stay downstairs.During my Owo Nairabet movie premiere, I swear to God, Tobi's mum came with 30 powerful dignitaries that blessed me with 💲..it is only Tobi's dad that celebrate my birthday twice in a year. Dad yaff double stored my BD date. There is no way I will write my success story without mentioning Mrs Bakre, she treat me like her 1st child and her husband will call and say "Lizzy, its been long I settle you. Check your account and manage that token for the weekend".
Funny enough, Mr & Mrs Bakre always treat me like a diamond in the sky. I am saying it boldly that what I have become today in business is through the help of God and Mrs Bakre. Irony of life, when Tobi's parents met me. They fell in love with all they have with me. Who would have thought any of their children would be on screen? Mr & Mrs Bakre each time you put smile on my face, I say to you…your children will be celebrated all over the world. Tobi win, win or the other way round. I know one day you will rule this country cos you are born to rule. For the sake of thousands of people your parents feeds every week in AGO -IWOYE, your parents good deeds will always pave ways for you where ever you go. please, let's make Tobi Bakre win on BBNG. VOTE TOBI 32052″
---