Black Sherif Leaves Fans Worried With Recent Post
Written by maxfmeditor2 on July 29, 2022
Mohammed Ismail Sherif Kwaku Frimpong known professionally as Black Sherif a Ghanaian musician and performer from Konongo.has left his fans on social media worried with his recent post
Fan's who has since been reacting to his post on Twitter is currently wondering what could be wrong with him. Is there possibility that he might be sick or is he involved in any trouble. Could anyone be someone threating his life over something.
Black Sherif's post has left a lot to be desired. His words:
"BLACKO

@blacksherif_

fighting for my life"
At the sight of the tweet, fans began responding. While some are worried and encouraging him to stay strong, others are of the opinion that he is use to playing with people's emotions over nothing. Here are some of the responses from fans:
"Big Mike

@BKCBoss

God be with you bro. You need all the strength you can gather!🙏🏻"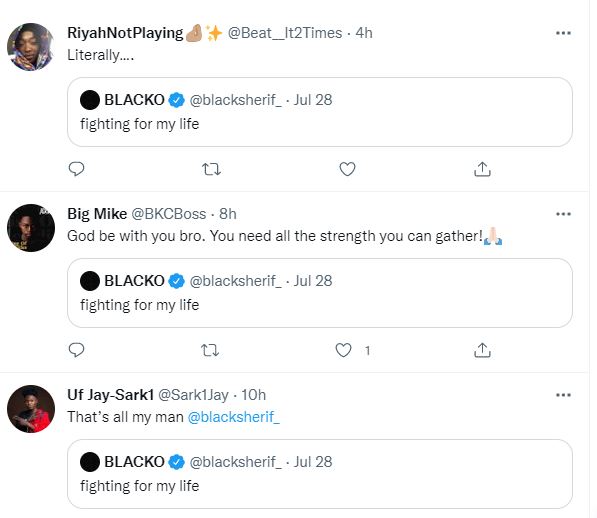 "𝐓𝐞𝐞𝐓𝐚𝐥𝐤™ ✨

@obajemujnr_

hope all is well with Blacko"
"onedray

@onedray_

Find that one thing you wish u neva gave up . Keep that image cos its worth fighting for blood 🩸 we got here u"
"Mission Aborted

@GracieAmorie

This boy always give me sad vibes even when he's happy. He's only 20 years free him"
"ayo.

@ayomid_e

sending you speed recovery man."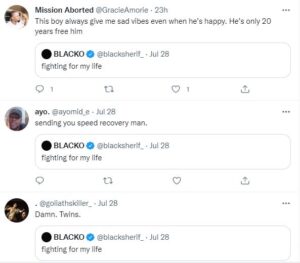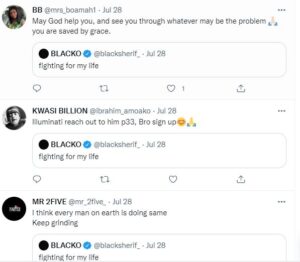 "BB

@mrs_boamah1

May God help you, and see you through whatever may be the problem 🙏🏻 you are saved by grace."
"🧜🏾‍♂𝓓𝓪𝓿𝓲𝓭 ( 𝓜𝓮𝓻𝓶𝓪𝓷)

@Daveyy_Official

People in the CS ain't taking this tweet serious..

What in the name of evil is wrong with people?"
"Fard Muhammad

@YungHusband_

Bare minimum if you're living in Nigeria. Especially Lagos."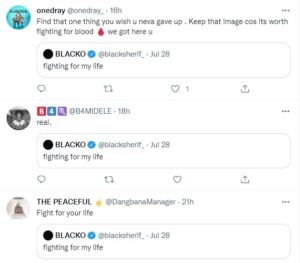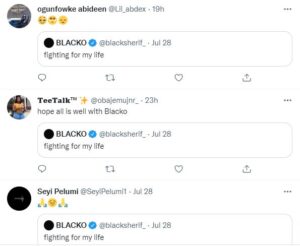 No doubt living in Nigeria has not been so pleasant for the citizens particularly this period, a lot of people are relating his statement to mean hardship in the country and the will to strive to do better.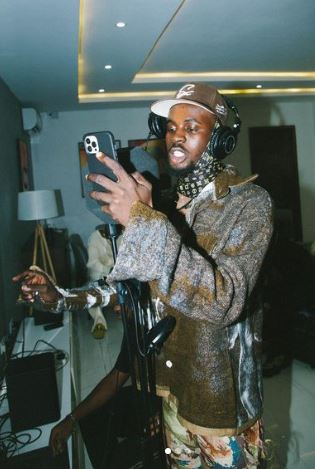 https://twitter.com/blacksherif_/status/1552492212751138816?t=0vDssRcbcgTTph_PwTzDew&s=19
Could this be the reason for Black Sherif's tweet or he is battling an ailment or there is something that might surface later. Whatever the situation is, we want to hope and wish him well.
---