Bloated or pregnancy? Cardi B sparks pregnancy rumors after she's seen with bulging tummy
Written by MaxFM on February 15, 2018
Bloated or pregnancy? Cardi B sparks pregnancy rumors after she's seen with bulging tummy
Cardi B is engaged to Offset so the possibility of her being pregnant is not so far-fetched, and fans really believe she is expecting after she was photographed performing with a protruding tummy.
TMZ report claims Cardi's team revealed she was pregnant. The 25-year-old rapper performed at Maxim's bash, afterward, a member of her team said that she didn't want to be in the "party atmosphere" of the VIP room reserved for her entourage as she's "three to four months" pregnant. She reportedly opted to remain in an area by the stage, where she sipped Fiji water while enjoying the party.
Another rumor making the rounds is that Cardi and Offset's side chick Celina are both 3 months pregnant and have their due dates around August 12th, 2018. If this is true, then it means Offset was sleeping with both women at the same time. We knew he was cheating but no one expected it to be this bad.
While Cardi is denying rumors of pregnancy, Offset's side chick, Celina, who was served with a cease and desist letter by the Migos rapper at the end of 2017, is busy flaunting her pregnancy on social media.
Below is what she shared on social media on Valentine's day.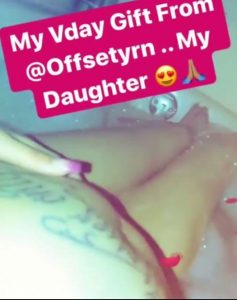 ---