Bobrisky shades Ka3na for calling Praise a 5 seconds man; says she's razz and classless
Written by MAX FM on June 23, 2021
Self-acclaimed 'Boss Lady' Ka3na 0n BBNaija reunion expressed her disappointment revealing that Praise did not last up to 5 seconds during sex. She also revealed having terrible sex with Praise outside the house.
During the BBNaija reunion, Ka3na who had previously denied having sex with Praise in the house – tagging what they did under the sheets as 'aggressive cuddling,'
made a turn around on the show and admitted they had sex, only that it lasted for "5 seconds."
According to the mother of one, who describes herself as a 'Boss Lady,' she invited Praise to her bed where they had sex but was disappointed as it only lasted for 5 seconds.
She said in annoyance she had to leave the bed to go outside and 'chill' as she was disappointed at Praise's performance.
Ka3na further revealed that after Praise left the house, he wanted to prove himself and asked to see her. She said they met at a hotel where they had sex again, which according to her lasted for about 5 seconds.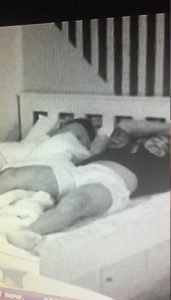 She admitted that she used Praise and can't see herself being with such a man as he acts like a 'boy.'
Praise, on the other hand, said Ka3na just wanted to enjoy '15 minutes of fame' stating that he told her right from the time that he wasn't interested in a relationship with her because he had a woman as at the time they were both in the house.
He also said he denied that they had sex when he left the house because Ka3na reached out to him begging him to do so in all his interviews.
Nigerians on social media have been reacting to the drama that played out between Ka3na and Praise, and Bobrisky has joined in the conversation. The crossdresser took to his Instagram page to shade
Ka3na while tagging her as 'razz and classless,' for sleeping with Praise for free on Live TV. He also said she should remove the title 'Boss Lady' from her social media bio.
See post: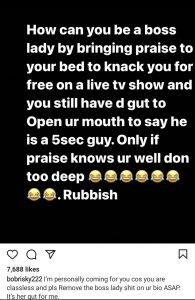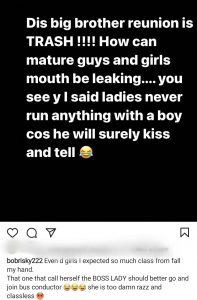 ---