Bobrisky speaks about growing up, says his mother taught him to be confident in himself 
Written by AaronWeb on October 8, 2019
Nigeria'spopular  crossdresser, Idris Okuneye, aka Bobrisky, has shared a bit of his life's story. Bobrisky took to his social media page to engage his fans in a question and answer session, promising to be sincere in his response.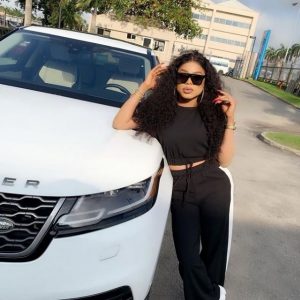 One of his fans asked him to talk about himself and the controversial crossdresser took time to talk about growing up as a boy. Describing himself as the richest Barbie doll in Nigeria, Bobrisky said that his mom was married to his dad as a third wife. Noting that he was the last born of the house, he explained that his mother had just him and his brother for his father.
Bobrisky said that things became difficult for him at the age of eight when his parents separated. According to him, his father allowed him to go with his mother because he was young. Noting that he was still a boy at the time, the 28-year-old crossdresser said that his mother taught him a lot of things including how to cook.
However, as time went on, Bobrisky said his father noticed he was behaving like a girl and he questioned his mother about it. He said:
"When I was small, I used to behave like a girl. So, my dad asked my mum why I was behaving like a girl and she said that was how she saw me. She said that is how I am and that nobody should judge me because I was still very small."
From that moment, Bobriskysaid his mother taught him how to be confident in who he is, which was how he fell in love with acting like a woman. The Nigerian crossdresser explained that after his secondary school, he got the courage to tell his mother that he wanted to be a woman and she gave him her full support.
He said: "So after my secondary school, I opened up to my mum that I would love to be a woman. At that time, my mum used to have plenty boyfriends. So, after I told her, she said I should be whoever I want to be and she would never judge me. After she died, things were a bit harder again because there was nobody to open up to.
Watch Bobrisky speak here:
— Glory Met (@met_glory) October 7, 2019
---