brand influencer, Tomike is set to welcome her first child
Media personality and brand influencer, Tomike Adeoye shares a lengthy message with her fans on social media as she posts photos from her maternity photoshoots. The media personality who is currently expecting her first child was full of joy and excitement as she expressed gratitude to her fans and family for their support.
"For He has blessed us abundantly!🥺🙏🏾
This picture is my entire mood! Like I said on YouTube, the joy hits different whenever I share with you guys! I've cried, laughed, smiled & danced!
this mummy-to-be has been floating on cloud nine all day! 😂 Aunties and Uncles I see you oo😂😂 na family baby las las😂😂we get the belle together don't worry. I understand your joy! Non family members might not but no worry😂😂 our baby has been leaping for joy all day! Be like say the pikin dey hear all your screaming and crying😂
To my irreplaceable glam squad!!. Thank you for making this yummy mummy in the making look 🔥 🔥 🔥 🔥
Ah ahnnn!!!! Even me sef I feel myself bajeee😂
@tmtbylayinka my sugar mamaaaa!! Sorry sugar grandmama in the making💃🏽😂😂 thank you for your baby girl look like the Queen that she is! With the sun that almost fryed me, my make up stayed intact! I still got home to film some content hours after the shoot and the make up was as good as new! Na you Biko🙌🏽
@chic_byveekeejames my baby girl for life! Number 1 hustlerrr!!! Thank you for transforming this fabric on my body! You wrap am sote I fear who no fear you!😂 Thank you for always coming through for me! Just one phone call and you were likeee.. say no more!!! I'm glad I can always count on you! My super creative and hardworking friend!P.S- I'm always soooo proud of you!!! Continue to soar baby!
@malliaworld@adefunkeee this combo I wouldn't trade for anything🙌🏽 Funke with how crazy your day was you came through for me as always! Even with the one million clients you had, you kept offering to come over instead of me coming to the salon just so your preggy sister wouldn't be stressed. thank you for layingggg my frontal sote the lace disappear!😂I love you boo! Thank you 💕
@dapoking_ Mrs Matrimonial like you call me😂😂 thank you! For making it happen! You were supposed to be in another city that morning but you missed that trip just so you could be there! You didn't even fret or panic or rush us, you were so patient with us despite the fact that you were..Contd in comment section"
Advertisement

She went ahead to share a series of photos from her maternity photoshoots, see pictures below.
She wrote: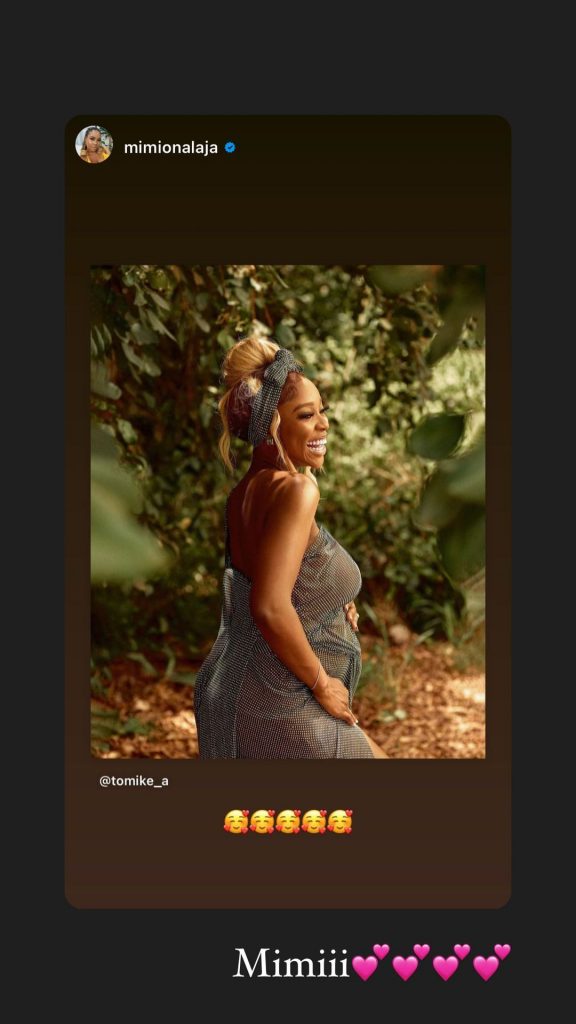 Advertisement

[/video] [/video]
---