Brazilian Doctor's Update on Neymar's Injury
Brazilian and Paris Saint-Germain play-maker, Neymar was "sad" after suffering an untimely injury with Paris Saint-Germain but remains on course to make the World Cup, claims Brazil's national team doctor.
The 26-year-old suffered a broken metatarsal during a Ligue 1 fixture with Marseille on February 25.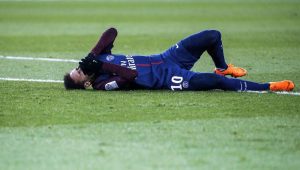 It was established, after some initial confusion, that he would require surgery and could be sidelined for up to three months.
His readiness for this summer's global showpiece in Russia was immediately cast into doubt, but Dr Rodrigo Lasmar says any initial fears have been calmed.
He told L'Equipe:
"He became very sad when he found out the seriousness of the injury and learned he needed surgery.
On the eve of a competition like the World Cup, it's always a little scary. He became really annoyed in the first moments, but his power of recovery and his mental strength allowed him to overcome that."
Lasmar added on a possible return date for Neymar: "What is certain is that he wants to return as soon as possible. But after the operation, we set a target of six weeks before examining the evolution of his recuperation. From there, we'll do further imaging and detailed reviews that will help us define that return.
"We have to wait to see how it will be for that so we can detail the next steps and establish the day in which he can return to the field."
Brazil have been working closely with PSG throughout a process involving a star man for club and country.
Neymar is currently back in his homeland recovering and Lasmar insists there has never been any dispute with his French employers regarding management of an unfortunate knock.
He said: "In no way [did we disagree]. Our relation with Dr. Rolland is very good and is not new. We've known each other for a long time. Over the years, we established a professional relationship, but also a friendly one. Before Neymar's injury, there was never a problem of misunderstanding with PSG.
"And I insist, because it's important, there wasn't, during this episode, any discrepancy between CBF [the Brazilian football federation] and PSG. Since the first day, we had the same thinking in that I said I respect the diagnosis and necessary treatment. There was total harmony among us."
---