Daddy Freeze challenges Davido on Tithing issue
Written by MaxFM on December 14, 2017
Daddy Freeze challenges Davido on Tithing issue
Daddy Freeze has challenged Davido to participate in the newly launched "The Tithe Against Poverty" initiative which is really gaining popularity and massive acceptance.
According to the On Air Personality, "The Tithe Against Poverty" is an initiative created to end poverty in Nigeria. To participate, one must help someone out of poverty with a tithe of one's income and challenge others to do the same. Nigerians are responding greatly and investing enormously to the initiative that was launched over the weekend
Yesterday, Daddy Freeze challenged Nigerian Singer, Davido on his twitter handle to take up the challenge and he accepted it wholeheartedly.
.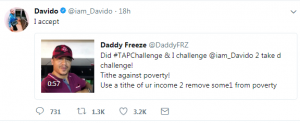 Also see the tweets of great Nigerians who are responding to  the #TAP challenge:
https://twitter.com/MrRansoming/status/940880582812237829
See this Lady's contribution to the #TAPchallenge …. she is simply amazing pic.twitter.com/UnPB14Vl0n

— Daddy Freeze (@DaddyFRZ) December 12, 2017
---