Davido Finally Wishes Uriel Happy Birthday
Written by MaxFM on January 26, 2018
Davido Finally Wishes Uriel Happy Birthday
Uriel the ex big brother Naija house mate had her birthday yesterday, and her friend Bisola who was a fellow housemate at the Big Brother Naira posted a picture of her online which a fake Davido account user commented on with a love emoji.
Uriel was amazed and thought it was the real Davido, she gave a response back with "I Love Uuuuuu". The comment was later revealed by a fan to be from a fake Davido account.
Davido has now taken to Uriel's account to like her post and also make a comment on the post, wishing her a happy birthday and love on the other side.
See picture below: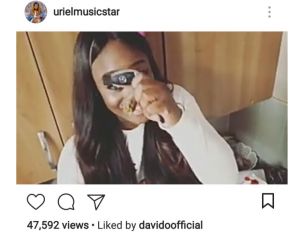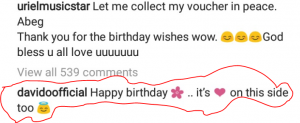 ---