Desmond Elliot Denies Sponsoring A Bill To Regulate Social Media (Video)
Written by MAX FM on October 27, 2020
Desmond Elliot, the lawmaker representing Surulere 1 at the Lagos State House of Assembly has denied that he is pushing for a bill to regulate social media activities.
In a video posted on his Instagram page, Desmond Elliot was reacting to a post from a Twitter user, Dr. Olufunmilayo, who said the social media bill is aimed at shutting down any circulation of videos and pictures from the Lekki Toll Gate massacre, which happened on Tuesday, October 20, 2020.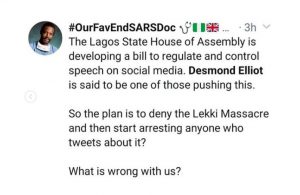 However, Demond Elliot who reacted to the allegation, stated that there's no such bill before the Lagos state assembly. He described the allegation as unfounded and further asked the social media commentator to always verify as no state house of assembly has the power to deliberate on such.

---
You may also like
Continue reading