Dethroned Akwa Ibom Beauty Queen Replaced with First Runner-up
Written by MaxFM on January 18, 2018
Dethroned Akwa Ibom Beauty Queen Replaced with First Runner-up
Following the dethronement of Abasiodiong Eno Inyang who was the Former Akwa Ibom Teen Beauty Queen, another beauty queen has been chosen to replace her.
Miss Inyang was dethroned after releasing 'semi-nude' photos to mark her birthday.
See pictures below: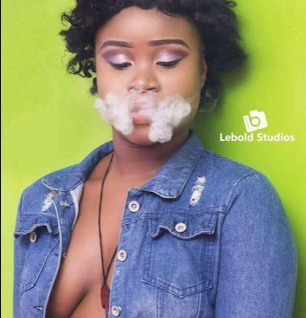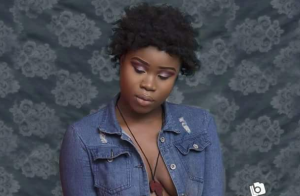 However, the teen took to her Facebook page to tender a heartfelt apology but it seems it was not accepted as another person has been chosen to replace her.
Read apology below:
AN APOLOGY LETTER FROM MY SUBCONSCIOUS MIND.
I, Miss Abasiodiong Eyo Inyang who until my dethronement few days ago was MISS TEENS 2017/18 deeply apologies over my negative behaviour lately. 
Few days ago i added another year to my age & i thought it wise to embark on a photoshoot, I decided to post my "Half Nude" pictures taken with the clearest of intentions.
Not knowing I would be misunderstood!
And so, I apologize to organisers of the "Miss Teens Pageant" whose crown I bore…
To teenagers across boards who are victims because of how they dress…
To Akwa Ibomites who I let down…
To parents, family, School & friends…
Please, from the deepest recesses of my heart, i plead for FORGIVENESS.
The organisers of 2017 Queen of Akwa Ibom Teenagers Forum announced that Miss Meggy Linus, the First Runner-up is the new Akwa Ibom Teen Beauty Queen.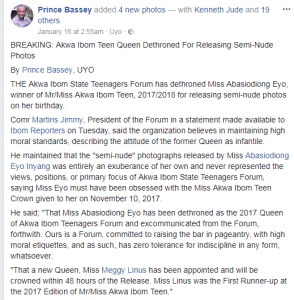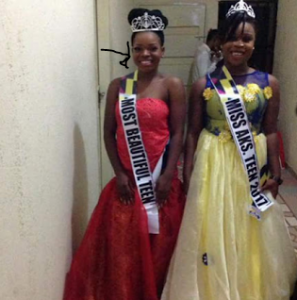 ---