Dotun disagrees with Daddy Freeze after he said it is 9ice's wife's duty to prevent him from cheating
Written by MAX FM on November 23, 2020
Daddy Freeze reacted after 9ice released a video asking the public to help beg his wife. Freeze asked 9ice's wife to forgive him then he pointed out that women have a part to play in stopping their husbands from cheating on them.
He acknowledged that no woman will ever be happy if her man cheats on her. He went further to say that men should engage in extramarital affairs only if they will be OK with their wives having boyfriends outside the relationship.
He then went on to ask women to help their men not to cheat because men are polygamous in nature and they cheat by default. He said it is the woman's "duty" to keep that nature in check.
He said:
"First things first, 9ice is 100% wrong in my opinion, don't cheat on a woman. When cheating happens, I will never share the blame between a man and a woman. The blame of cheating, lies a 100% in the hands of the man.
However, when it comes to preventing cheating, there is a job of both the man and the woman, because men by default like to cheat.
When you know that something is in someone's blood, it is also your duty to have to understand this.
He added that the way to prevent infidelity is through transparency but said women make it impossible for their husbands to be transparent with them.
Reacting to this, Media personality, Dotun disagreed with Daddy Freeze after the latter reacted to 9ice's infidelity by saying it is his wife's duty to keep him from cheating.
He said:
Some women, your man cannot be open with you. It's not the man's fault, it's your fault, you have to deal with it.
He added that men also cheat because, for a small fee, they can get a woman outside to fulfill all their sexual fantasies but the wife at home wouldn't do that.
He said:
Sometimes a man wants something his wife cannot give him because your wife is also running the home.
It's easy to pick a Unilag chic for the weekend and you give her 20,000 Naira and you'll be good for a weekend.
You can't give your wife 20,000 Naira and tell her to put your leg here, put your ear here, bend like this.
A number of people watching Freeze's live video asked why Freeze is putting the burden of men's fidelity on women.
Dotun also voiced the same sentiment.
He tweeted:
It should not be your partner's job or duty to check on you to make sure you are not cheating. It is your duty not to..
@DaddyFRZ I agree with you on a few things but not on this one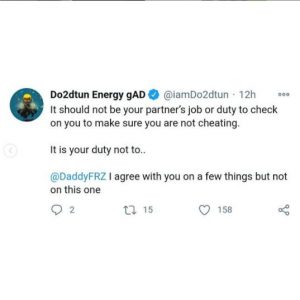 Swipe below to watch Freeze's opinion on 9ice's infidelity.
View this post on Instagram
Source : #LIB
---