Record Label Allegedly Threatens Runtown Over Sex Tape
Written by MaxFM on March 30, 2018
Popular Nigerian artiste, Douglas Jack Agu, better known as Runtown is currently having a dispute with his record label Eric Many.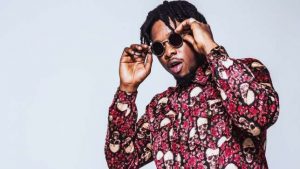 He is allegedly breaching the contract he signed with them. The latest development comes as a threat from his label boss, Dilly, and it involves a sex tape.
A chat between Dilly and a PR guru has leaked and it speaks of a sex tape which likely shows the singer in bed with a lady whose identity is one of the reasons why the video is in hesitation to leak.
See screenshot below;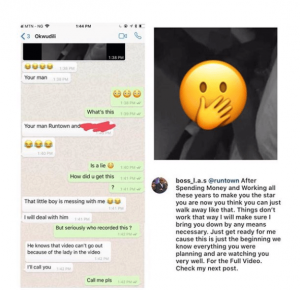 The new development is coming just few days after the General Manager of Eric Many, Johnson Adumike called out the singer for posting a video on Instagram about a collaboration he's cooking with Wizkid.
Johnson advised the singer to rather get lawyers to help settle the case he's having with them rather than flaunting what he doesn't have the legal right to see through.
'Runtown, rather than deceiving your fans by teasing them with a collaboration which you do not have the legal right to release, what you should do is to get your lawyers to come up with legal documents to clear your name just like Kiss Daniel when he had a similar issue. This is a way more mature approach than just throwing subliminals on social media'.
'Its baseless pretending to the public when you clearly signed the dotted lines and its only right to be reasonable and keep your end of the deal and I Johnson Adumike will make sure that I inform the fans and followers of all proceedings and deliberations in court,so all interested parties can know current situation between Eric Many And Runtown at all times', he said.
---