"If you ever need a kidney, I got you" – Cardi B Tells Bruno Mars
Written by MaxFM on January 30, 2018
"If you ever need a kidney, I got you" – Cardi B Tells Bruno Mars
Gorgeous American Singer, Cardi B took to social media to post a "thank you message" to Bruno Mars after a Grammy performance.
The rapper was nominated for two Grammys and thanked Bruno Mars for his supports to her and also stated that in case he ever needs a kidney, she will be available for him.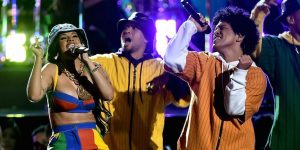 She captioned the post on her Instagram page; "@brunomars i want to thank you Soo much ! I don't even know how !maybe one day you'll need a kidney ?I got you ??Congrats on your Wins tonight you deserve I.T .You sing ,dance play instrument ,produce your videos SHIT you probably know how to build a house .You ARE AMAZING …and you gave me rythm."
The 60th Edition of the annual Grammy Awards held on 28th of January 2018, where Bruno Mars and Kendrick Lamar walked away as the biggest winners of the night.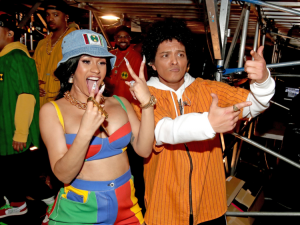 ---