Footballer Michael Essien honored with a bizarre-looking statue in Ghana
Written by MaxFM on January 4, 2018
Footballer Michael Essien honored with a bizarre-looking statue in Ghana
A statue to honor Ghanaian International footballer, Michael Essien in his homeland in Ghana, was shared online, and it's fair to say the statue is bizarre-looking.
The sculpture of the footballer who currently plays for Indonesian club Persib Bandung which was erected in Kumasi has been tagged as an "awful one".
Shown in Chelsea's iconic blue home strip, Essien's body looks severely out of proportion, while his face is far too jagged and lumps of his face appear to be missing.
He is also kicking the ball with similar technique to a toddler, his knees are strikingly thin compared to the rest of his legs and his shoulders appear to be armed with NFL-style padding.
See picture below: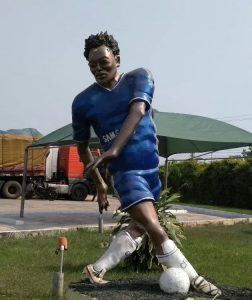 ---