Gabriel Jesus to Travel to Barcelona For Treatment
Manchester City forward, Gabriel Jesus will travel to Barcelona this week to have further treatment on his knee injury.
The Brazil striker will be assessed by Dr Ramon Cugat, the specialist who helped Ikay Gundogan return to full fitness from knee ligament damage and is overseeing Benjamin Mendy's recover from a similar injury.
The 20-year-old, who has scored eight Premier League goals so far this season, was injured in the goalless draw with Crystal Palace on New Year's Eve, as their 18-match winning league run came to an end, leaving the field in tears.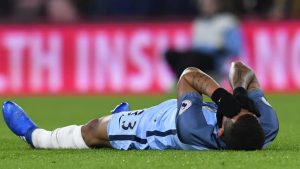 ---