Germany Football Association Sets World Cup Victory Bonus At €350,000 Per Player
Written by MaxFM on December 15, 2017
Germany Football Association Sets World Cup Victory Bonus At €350,000 Per Player
The German Football Association(DFB) announced Wednesday that each member of their squad will receive a 350,000 euros ($441,267) bonus should Germany defend their World Cup title next year in Russia.
If the Germans win a 5th world title, Joachim Loew and his squad stand to get an increase in prize money from the 300,000 euros they each got for winning the 2014 World Cup final in Brazil.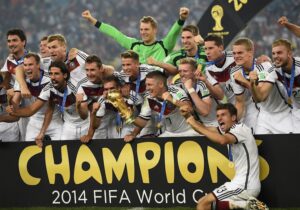 Germany have a reputation for being a tournament team and there will be no prize money from the FA until they reach at least the quarter-finals, where each player would get 75,000 euros.
The money withwings cash rises to 125,000 euros for the semi-finals, 150,000 for third place and 200,000 if they lose the final pn July 15 at Moscow's Luzhniki Stadium.
---