Girl offers to pay 'Groom Price' to a young barrister
Written by MaxFM on December 14, 2017
Girl offers to pay 'Groom Price' to a young barrister
Asikiya George, a beautiful lady seemingly proposed marriage to a  handsome young lawyer, Timileyin who just graduated from the Nigerian Law School on twitter.
After Mr Sanjay Temileyin was called to bar, the lady decided to ask the handsome barrister how much his 'groom price'  is as she wants his hands in marriage.
This flirty move lighted up Twitter as it is abnormal for a lady to pay the groom price of a man in the African marriage setting. It is always the other way round as its tagged 'Bride Price'.
However,it is not clear if Timilehin accepted her romantic offer.
See the tweets below: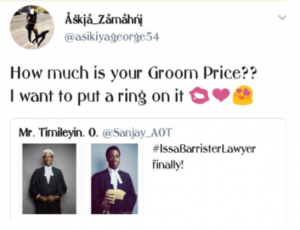 ---