"Giving Your January Salary To A Pastor As First Fruit Is Foolishness" – Daddy Freeze
Written by MaxFM on January 4, 2018
"Giving Your January Salary To A Pastor As First Fruit Is Foolishness" – Daddy Freeze
Nigeria radio host and presenter Ifedayo Olarinde popularly known as Daddy Freeze has begun the year postulating that "Giving one's January Salary To A Pastor As First Fruit Is Foolishness"
The controversial Cool OAP shared the statement via an Instagram post, which comes as no surprise seeing how he has been leading movement that seems to abhor giving in church.
According to him:
"Collecting the salaries of your congregation in January is Fraud! Stop this unchristian practice that creates slavery and poverty.
The lies and falsehood of collecting January salary from Christians as first fruit! Stop it, its FRAUD from the pits of hell!"
Responding to Daddy Freeze's post, Omotola revealed that she is hearing about giving first fruits for the first time.
See her reply below: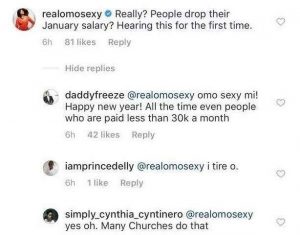 ---