GRAMMY AWARD-WINNING ARTISTE BURNA BOY SHAVES OFF HIS BEARDS
Written by Max1023fm on October 22, 2021
Nigerian artiste, Damini Ogulu, popularly known as Burna Boy, has caused a stir with fans on his new look.
The 'Want It All' crooner took to his Insta story recently to share a video of his smoothly shaved chin.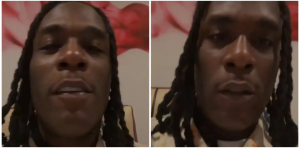 He captioned the video, "Had to shave my beard. Lol. Now I look my age."
Fans were quick to React to Burna Boy's new look.
A fan said, "Not Burna Boy shaved his whole beard off and still looks fine."
Another one said, "Burna Boy without a beard. I never saw it coming. It still looks good though."
"As Burna shaved his beards, it took the 'Burna' away from Burna Boy. Now he's just a boy," was another comment from a fan.
---