Harry Styles Channels Dorothy from 'The Wizard of Oz' For His Halloween Themed Concert
Written by Max1023fm on November 1, 2021
English singer, Harry Styles performed "Somewhere over the Rainbow" during his Halloween-themed show at Madison Square Garden
Harry who is currently in the midst of his "Love on" tour across North America, on Saturday night performed "Somewhere over the Rainbow" channelling Dorothy Gale on stage.
Recreating The Wizard of Oz  blue and white dress reminiscent of the one that Garland wore as Dorothy in the popular film, Styles completed his look alongside his band, the pop artist and actor donned a blue gingham dress with a bow in his hair, bright red leggings, bobby socks and a pair of the iconic ruby slippers as he sang, "Somewhere over the rainbow, way up high/ There's a land that I heard of once in a lullaby/ Somewhere over the rainbow, skies are blue/ And the dreams that you dare to dream really do come true."
At each of his tour stops, the singer has dressed in eccentric and colourful outfits, which comes as no surprise given Styles' love for fashion and experimenting with different looks.
Styles, who became the first man to land a solo cover of Vogue when he graced the December 2020 issue in a lace-trimmed dress and tuxedo jacket, previously told the publication that he doesn't like "limiting" himself when it comes to the outfits he chooses to wear.
"Clothes are there to have fun with and experiment with and play with. What's really exciting is that all of these lines are just kind of crumbling away," he told the outlet. "When you take away 'There's clothes for men and there are clothes for women,' once you remove any barriers, obviously you open up the arena in which you can play."
"I'll go in shops sometimes, and I just find myself looking at the women's clothes thinking they're amazing. It's like anything—anytime you're putting barriers up in your own life, you're just limiting yourself," Styles added. "There's so much joy to be had in playing with clothes. I've never really thought too much about what it means—it just becomes this extended part of creating something."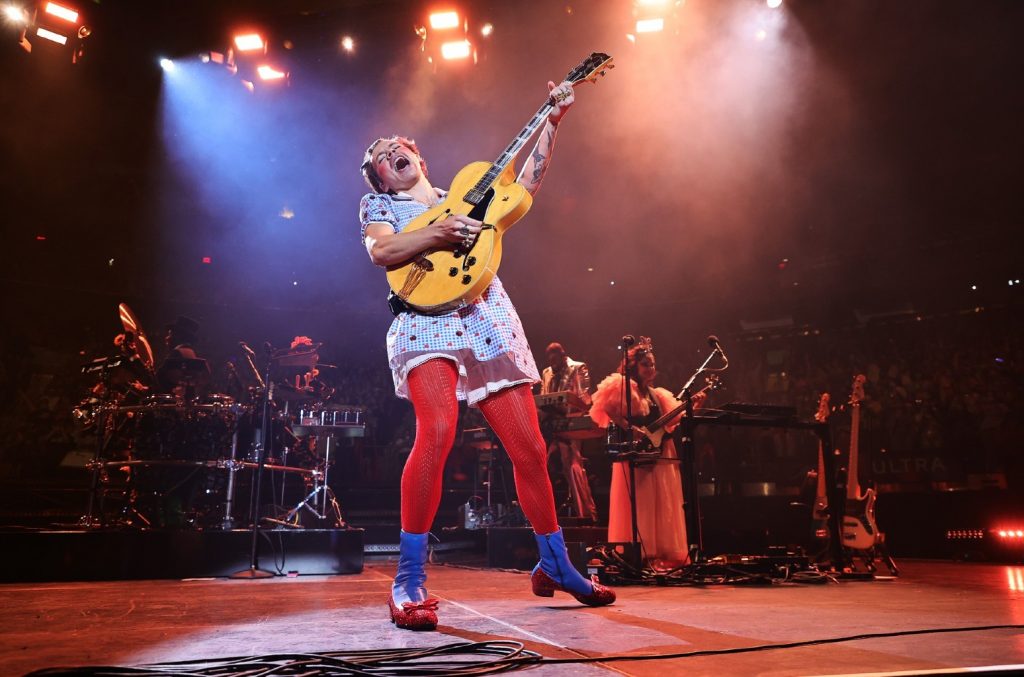 Styles made sure to perform his hits during the show, with "Only Angel", "Lights Up", "Watermelon Sugar" and "Kiwi" in its lineup.  
The concert wasn't complete without a nod to its boy band roots, with Harry singing "What Makes You Beautiful" to an adoring crowd.
 The former One Direction member is smack in the middle of his "Love on Tour" across North America in support of his Grammy-nominated second album Fine Line 2019.
The album was Irish Christmas No.1 of 2019, shortly before the Covid 19 pandemic. In his Hot Press Bumper Christmas Special review, Selina Juengling describes Fine Line as "an extraordinarily powerful record". Another 'Harryween' show is taking place tonight at Madison Square Garden before heading west for November.
---