Hazard to Renew Chelsea Contract after Courtois
Chelsea star, Eden Hazard has offered new hope to fans that he will sign a new contract with the Blues, but still claims teammate Thibaut Courtios will be the first to get an extension.
Hazard has been consistently linked to Real Madrid, with reports on Thursday even suggesting that he had agreed a move with Spain.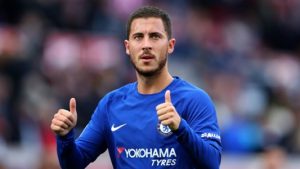 But the winger, who took in the NBA clash between the Boston Celtics and Philadelphia 76ers in London on Thursday along with a host of other big names, has once again hinted at a new deal with the Blues, pouring cold water on some of the rumours of his future.
"Yes", Hazard told Mirror Football when asked if he would ink a new contract with the London outfit. "I think Thibaut first. Then I will sign."
Hazard and Chelsea are currently sitting third in the Premier League, just a point behind second-placed Manchester United but 16 behind runaway leaders Manchester City.
---