I Found Adesua Because I Found God First" – Banky W
Written by MAX FM on April 13, 2021
I Found Adesua Because I Found God First" – Banky W.
"I was supposed to get married when I turned 30 years old… but when I got to the age of 36 was when I met Adesua just because I found God first and, when I found God first, God gave
me the love of my life." – words of Nigerian singer, rapper, and Politician, Olubankole Wellington, popularly known by his stage name – Banky W.
While speaking on MaxFM's number one radio show – Wetindey with Wale Powpowpow, he recounted how he sought God first and God gave him the love of his life; going on to describe Adesua as his queen, baby mama, and everything to him.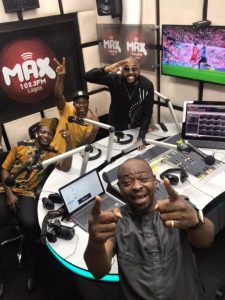 The 'Capable' crooner revealed how it took them three years to get pregnant with Zaiah
The singer further mentioned that everyone has what they are waiting for in life.
"Everybody get something wey them dey wait for… it fit be pikin, it fit be marriage, it fit be job, it fit be business and it fit be anything wey go make you smile… but for me and my wife, na pikin."
The singer believes that everything they went through was for a purpose:
"Now we see the purpose… and we see that God wan use our story to encourage other people say, even if it take long time, E go enter… that thing wey you dey wait for, e go come. Just believe in God."
Discussing what it takes to be a father, Mr. Wellington revealed that, of all the job descriptions he has, being a father is his favourite.
"When you dey hold your pikin for your hand… there is nothing like it… Na another level of contentment and fulfillment wey be say you go wake up and thank God for the things Him don do for you."
See video:
Meanwhile, recall that Adesua and Bankole Wellington, a Nigerian celebrity couple, have recounted the heartbreaking moments they lost their first pregnancy a set of twins.
---