Ijebu garri and fried fish served as refreshment at a wedding reception
Written by MaxFM on February 2, 2018
Ijebu garri and fried fish served as refreshment at a wedding reception
A Nigerian wedding stood out because of the food that was served to guests during the ceremony.
Usually, Jollof rice, fried rice, and various local delicacies are the types of foods served at Nigerian weddings but a couple served Ijebu garri and fried fish at theirs.
Pictures shared online from the wedding shows a ceramic bowl filled with "soaking" garri and a small basket of fried fish and prawns beside it.
The wedding reportedly took place in Lagos.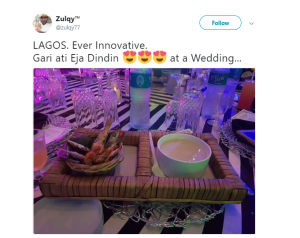 ---