"I'm from the street; I grew up in Ajegunle" – Good Girl LA
Written by MAX FM on March 4, 2021
"I'm from the street; I grew up in Ajegunle" – Good Girl LA.
Nigerian Afro-fusion singer – Euphemia Runyi Ekumah, popularly known by her stage name – Good Girl LA, was our guest on MaxFM's midday favourite entertainment show #MaxHits with Real Skillz and Cera.
When asked what was  going through her mind while recording the song: "Bless Me," she replied:
"I was sick during that period. I couldn't go to the studio for months so, one morning, they carried me to the toilet because I couldn't walk.
I'd lost my voice; I even thought my voice was gone…. While there, the song just dropped in my mind so I, immediately, asked someone to bring my phone and I recorded the melody."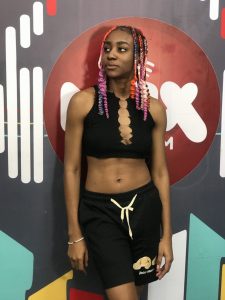 Asked if she was planning to be a tomboy, Good Girl LA stated that:
"the crazy thing is, for every time you've seen me wearing a girly outfit, I'd have worn something boyish before coming out. I don't show the world that part of me, however, that is the real me."
The Bando singer further revealed that she grew up in Lagos – in Ajegunle, precisely.
"I'm from Ajegunle. That was where I got 'Konto' from. I'm from the street. I started out from the common end but I see it that, this is a new era; this is a phase where I need to be in charge of my own creativity and music. I want to show the world the real part of me, a part that people have not seen. I want them to know that I am one of them, on the street."
Asked who, besides her Mum, influences her music, the singer disclosed that Beyonce and, mostly, Rihanna influence her music and that she listens to a lot of Micheal Jackson and Whitney Houston music.
At the moment, Good Girl LA is planning a collaboration with Young Thug, Rihanna, and Burna Boy.
See Video:
---