Joe Boy Bags Bra Gift From A Fan
Written by maxfmeditor2 on May 30, 2022
Joseph Akinwale Akinfenwa-Donus popularly known as Joeboy, is a Nigerian singer and songwriter. Joeboy, currently on a music tour, received a bra as a gift from one of his fans.  She was overly thrilled by his performance on stage and decided to bless him with her personal property.
Joeboy seen in a video searching for the lady who gave him her expensive personal gift. He published the video on his social media handle "Instagram."
During Joeboy's performance, a lady got too excited, removed and threw her bra to him on stage. Joeboy picked up the bra, waved it and in amusement he wanted to know who threw a bra on him. He surprisingly hung it with pride. See video below:
https://www.instagram.com/p/Cd8iJfPAiZM/
https://www.instagram.com/p/Cd9Usd7AxrA/
Joeboy's Brief History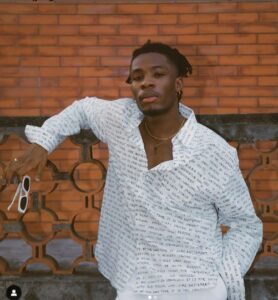 Born on 21st of May 1997 in the city of Lagos, Joeboy  celebrated 25th birthday May, 2022. Discovered by  Mr. Eazi of the musical company "emPawa Africa" in 2017, Joeboy's released a song titled "Baby," in 2019. This song amassed millions of views on YouTube and Spotify.
On the 15th of August, 2019, Joeboy released another blockbuster titled 'Beginning.' The video also got over 23million views on YouTube.
His debut album, Extended Play Love & Light, was released in November 2019. His earlier songs 'Baby' and 'Beginning' were included on the EP. The EP also includes the Mayorkun-assisted singles "Don't Call Me" and "All for You." Joeboy's track 'Call,' produced by Dera, was released in 2020. His second album, 'Somewhere Between Beauty and Pain,' was released in February 2021.
Joeboy's Accomplishments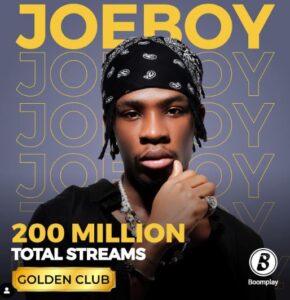 Joeboy recently added another 200 million to his total streams on Boomplay, that brought him to the duo-golden club rank.
At the 2019 All Africa Music Awards, Joeboy was named Best Artiste in African Pop, and at the 2020 Soundcity MVP Awards Festival, he was named Best Pop. He's also been nominated for the City People Entertainment Awards and The Headies on many occasions.
Joeboy, who picked the bra from the floor, hung it on his trouser throughout the event. His fans kept screaming and applauding him especially the females. Joeboy shared a photo of himself wearing the same bra present he received during the show on his Instagram page as he moved to his next tour location.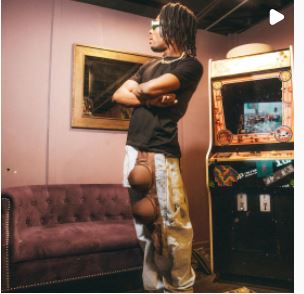 ---