Jose Mourinho Hits Back At De Boer Over Rashford Jibe
Manchester United boss Jose Mourinho has blasted back at "worst manager in the history of the Premier League" Frank de Boer following criticism of his handling of Marcus Rashford.
The man sacked by Crystal Palace just four top-flight fixtures into the 2017-18 campaign has questioned the methods being used at Old Trafford to bring the best out of an exciting talent.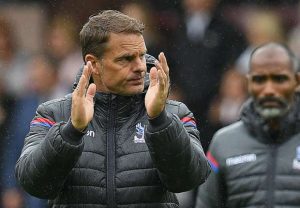 Having seen Rashford mark his first league start since Boxing Day with a match-winning brace against Liverpool, De Boer told BT Sport: "It's a pity that the manager is Mourinho, because he's an English player and you want him to be given time.
"He can make mistakes but Mourinho is not like that and if he has one or two not good games then he puts him out. He's very young, he needs games. But he's so talented and you want to see him play every week."
Unsurprisingly, Mourinho has not taken too kindly to seeing his methods criticised and has hit back at De Boer, telling reporters: "I read something, some quote from the worst manager in the history of the Premier League, Frank de Boer saying it's not good for Rashford to have a coach like me.
"If he was coached by Frank he would be coached how to lose because he lost every game."
Mourinho went on to defend his management of Rashford – a player who has made 40 appearances across all competitions this season and 93 in total under United's current coach.
The Portuguese added: "I try to give the best to the kids, education. Marcus I have to be honest and give the credit to the people of the academy that were responsible for his formation and to [Louis] Van Gaal for his first season in the first team.
"But if you go to his numbers and how many games he played with me. I would say he was in the top five with more matches for two seasons. The best thing to happen is to have experience. And Marcus is having these experiences. I'm really happy too.
"He plays for United many matches, he starts some, comes from the bench for others. I am really pleased with everything.
"Does he play every match from the start? No, of course not. He's a player we trust. Not many were expecting him to start against Liverpool and he had a good match, not just about scoring goals. I'm really happy with Marcus."
---