Journalist accuses singer Seun Kuti of pulling out a gun during an argument over parking space; He reacts
Written by MAX FM on December 14, 2020
Journalist, Temitayo Adetoto, has accused Nigerian singer, Seun Kuti, of pulling out a gun in the middle of a melee over parking space at his area of residence in Ikeja on Saturday, December 12.
Temitayo made the allegation via her Twitter handle. She wrote;
"SEUN KUTI pulled out a gun over a street parking matter in Ikeja tonight, personally assaulted the car owners attending the party, used thugs to assault them and called them gluttons at a paid event…I saw it happen.
It was abt 7pm when I decided to stroll out of the Lagos Facebook Hangout party held at 16, Akin Osinyemi Street, off Allen Ave, Ikeja. Outside the building where I stood, I couldn't help but shift attention to the man in an armless top & slightly over the knee trouser, raging.
He was mad that the party attendees littered the street where he obviously lives with their cars – a genuine concern (his gate was affected). There was a resident stranded in his car trying to access his compound but couldn't.
Kuti's fury leaped & began to ridicule the guy who block the access. Whether the guy knew or not that it was Kuti, he screamed back, asking him to take things easy before he leaves.
Next thing: Some three guys left Kuti's side and rushed the guy with slaps and blows, while Kuti also landed him a heavy strike on his head amid screaming. This guy retreated, almost crying. He moved his car. But it wasn't enough.
Kuti continued to rage at other car owners until one of the organisers, MM, showed up. In the middle of the effort to pacify, one of the bouncers told Kuti to calm down… Next thing again, Kuti's thugs rushed at the bouncer for such effrontery. That's where the party scattered.
This time around Kuti went into his compound and brought out a SHORT BLACK GUN! He was attempting to cork it but paused again… I called my friend that we needed to leave immediately.
I knew trouble was looming on a large scale when the guy who was earlier assaulted returned to the scene. Barely 30 minutes after we left, I got feedback from people at the party that there had been a gunshot, forcing everyone to scamper.
I'm shocked that Kuti will rather make his point with a gun than engage the organisers…seeing him in the movie 'Citation' & how he found his voice during #EndSarsProtests reinforces the feeling that things aren't what they seem. KUTI was a thug to behold."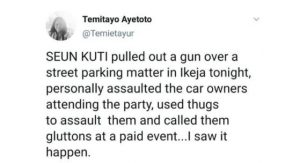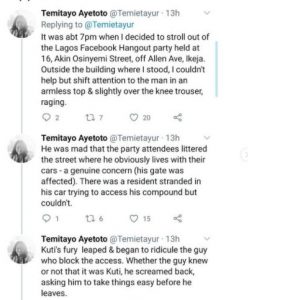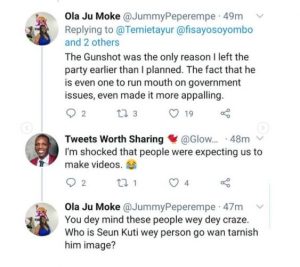 The singer via his Twitter handle says he will be addressing the allegation on his Instagram live.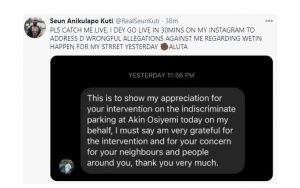 ---