Kanye West Spoils Wife Kim with Christmas Gifts
Written by MaxFM on December 27, 2017
Kanye West Spoils Wife Kim with Christmas Gifts
Kim Kardashian could not hide her joy as she took to the social media to share images of gifts her husband, rapper Kanye West got her for Christmas.
The post displayed photos of the stock Kanye got for her worth $500,000 in 5 companies, namely: Apple, Adidas, Amazon, Disney and Netflix.
She took to her Insta story segment and shared the photos. She wrote:
'Okay, so for one of my Christmas presents from Kanye he gives me this little box with a Disney Mickey toy, Apple headphones, Netflix, Amazon gift cards and Adidas socks.
'But then I open the next box and it is stock to Amazon, where he got the gift card, stock to Netflix, stock to Apple where he got the headphones, Adidas stock and Disney stock.'
It's clear to see on the Disney certificate, that Kanye bought $100k of stock and bought the same amount for each company.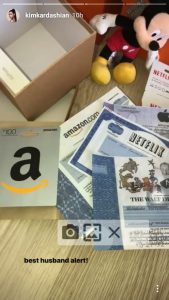 ---