Kate Henshaw opens up on remarriage at 50
Written by maxfmeditor1 on April 25, 2022
Nollywood actress Kate Henshaw opens up about her private life.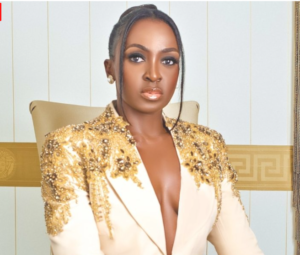 Kate Henshaw was asked if she has considered remarrying after her union with Mr Nuttel crashed years ago.
She said, "Well, never say never at the right time, God will do what He has to do. And if He says 'No' fine and if He says, yes, that is also fine. I am not ruling it out, but I am not actively searching to remarry."
Advertisement

On why she has continued to hide her daughter from the public eyes, she said,
"My daughter is my business. It's private.
I choose to have a line dividing privacy and public show-off of whatever.
Advertisement

I'm a very private person, but it so happens that my life is my work and that makes some part of my life public. But, I choose to protect her, but well, she's an adult now.
She can make the choice to go into the social media space knowing fully well that it's a mixed world out there.
So, one has to work circumspectly, treading carefully and know that the kind of information you put out, may be used against you in the future. So, I choose to keep her away from the public eye as a personal choice."
Advertisement

These days celebrities bring to the internet all their private affairs, some really scandalous and damning. Kate Henshaw expresses her view on how her colleagues use social media.
"Well, to each, his own; I will say that we all have choices and whatever we do, there are consequences. I, for one, I'm, okay.
I'm just minding my lane, content in focusing on my job and issues.
Advertisement

I am passionate about advocating for them and generally sending out positive vibes.
So, to each, his own, everyone is an adult and responsible for how they use the tool of social media because when the purpose of a tool is not known, abuse is definitely inevitable."
Gender based violence
Gender-based domestic Violence is gradually becoming the order of the day. Kate Henshaw reveals what she thinks can be done to stem this menace.
Advertisement

Hear her:
"I think more stringent consequences in terms of punishments should be meted out to perpetrators.
No shaming of the victim, no victimization of the person who has gone through domestic violence.
Advertisement

Our culture of silence perpetuates this evil. And so, a lot of voices need to be raised.
Gender-based violence is something that has been with us for a while, but with the advent of social media, it is now coming to the fore in a huge wave.
A lot more needs to be done especially by women to be able to stem this Menace. And of course, we need the relevant authorities to be alive to their responsibilities; name and shame the perpetrators so that people know that these kinds of people are being punished.
Advertisement

So, I'm an advocate for stringent strong punishment to deter others."
---