"My Marriage didn't work because i rushed into it"~ Iyabo Ojo
Written by MaxFM on January 12, 2018
"My Marriage didn't work because i rushed into it"~ Iyabo Ojo
Nigerian actor,director, producer and entrepreneur Iyabo Ojo was on the celebrity Friday edition of #YourViewTVC. In an exclusive interview with the ladies of Your View, talked at length why her marriage didn't work out.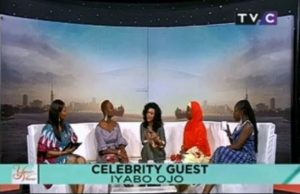 Iyabo Ojo got married at age 21 after dating her husband for about 2-3 months, though she is separated from the father of her two lovely kids for over 10 years now. In her interview, she said,
"I am not officially divorced that is why i still bear my husband's name"
One would think the reason for the fall out of her marriage was because she married too early. She however cleared the air when she said;
"I dont think it was too early for me to get married at age 21. At age 14 i was already being groomed as a wife by my grand-mother. The reason my marriage didn't work out was because I RUSHED INTO IT"
"At 21 i think you are an adult, though it depends on the upbringing. My daughter is in the university, she is in year 2 and she's just 16. You can't compare her to a 16 year old girl in secondary school. Once my daughter is  20, i will start preparing her for marriage.
Iyabo Ojo made it clear that if she was going to marry now she was never going to marry a poor man due to her past experience.

"If i want to marry a man now, he must be very comfortable and i'm saying this from past experience. When i married my husband, he was extremely POOR! The man that wants to marry me doesn't have to be super rich but he should be comfortable enough not to come to me and say 'give me'. Apart from my 2 kids i have 5 other children i take care of. So, i have enough responsibilities already". She said

Iyabo Ojo, an alumni of LASPOTECH studied Estate Management before moving to Nollywood. Speaking further, Iyabo disclosed that she wasn't interested in studying Estate Management.

"I wanted to study Law in UNILAG but then my English result wasn't good so instead of waiting, i decided to go into LASPOTECH and Estate Management was the course i could study with my mathematics"

Bimbo Akintola helped Iyabo Ojo when she got to the movie industry, it is so obvious that there are lot of competition in the industry, people want to attain limelight in the industry and remain there without helping younger people who look up to them. This however isn't true in the case of Iyabo Ojo as she said she has helped many young people in the industry.

"I have helped a lot of people i remember when Funke Akindele came i was there."

 Iyabo Ojo is a lover of humanity as she has helped a lot of people in attaining success in life and she also runs an NGO, Pinkies Foundation, which caters to the children with special needs and the less privileged.
---